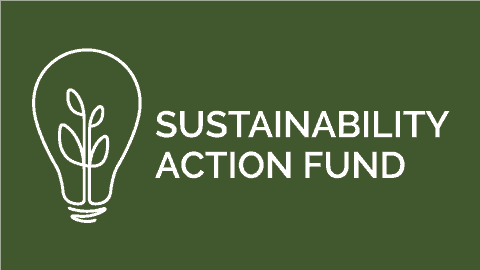 JOB POSTING / CONTRACT
Position: Design & Outreach Coordinator
Organization: Sustainability Action Fund - Concordia University
Location: Montréal, Quebec
APPLICATION DEADLINE: November 11th, 2018 at 11:59 PM. Please submit a cover letter, CV, and multimedia portfolio in one PDF file to Mark Underwood at ceo@safconcordia.ca . The interviews will be conducted on the weeks of November 12th and 19th. Applicants will be selected using pre-established criteria set by our Board of Directors Human Resources Committee.
Contract Term
1-year contract (December 2018 - December 2019), with the option to renew for a second year
Hours and Remuneration
10-15 hours per week at $15-$17/hour. Coordinators receive a cost of living increase upon renewal of contract in addition to a performance increase up to 5% depending on peer evaluations.
About the Sustainability Action Fund
The Sustainability Action Fund (SAF) is a student-run fee levy group at Concordia University. The organization collects approximately $205,000 of revenues a year from undergraduate (25-cent-per-credit) and graduate ($1.25 per term) fee levies.
The majority of funding goes to support projects to develop sustainable infrastructure, urban agriculture, community-building, and education surrounding environmental and community issues, with the long-term goal of inspiring and developing a culture of sustainability at Concordia University.
Job description
The successful candidate will work closely with the SAF executive team and members of the Board of Directors to design, produce and maintain promotional tools & strategies to mobilize students interested in or in the process of applying to the Sustainability Action Fund.
In their position, the Design & Outreach Coordinator will:
Develop, design, and disseminate web and print communications promoting the SAF in the Concordia community
Generate and share multimedia content related to funding activities via our website and social media platforms, such as Facebook, Twitter, Instagram, LinkedIn & Youtube
Design, develop and provide technical support for the SAF website and the online application form
Draft and publish monthly newsletters using Mailchimp
Develop the organization's tabling kit and engage with students during Fall and Winter orientation events
Establish relevant media contacts on campus (student newspapers, fee-levy groups, Concordia University Communication Services, etc.)
Assist in creating a culture of engagement and public support for the SAF by representing the organization on the Concordia Campus Engagement Sub-Committee and Fee Levy Advocacy Committee
Qualifications
The successful candidate will have:
Experience and knowledge using Adobe Creative Suite software (InDesign, Illustrator, Photoshop)
Strong written and verbal communication skills in English (French is an asset)
Superior command of all major social media platforms such as Facebook, Twitter, Instagram, LinkedIn & Youtube
Experience with the Wordpress CMS and Ninja Forms (or similar plug-ins)
Proficiency in coding HTML/CSS; working knowledge of PHP a strong asset
Experience assessing and determining content, standards, and processes for website management
Comfortable interacting with the public
Experience working as a team player, yet independently motivated
Ability to balance multiple projects and maintain a flexible schedule
Ability to work to deadline with strict attention to detail
Working knowledge of the Microsoft Office and Google Drive
Assets
Knowledge of sustainability
Experience working in a non-profit environment
Familiarity with Concordia University community
Enrolled as Undergraduate/Graduate student at Concordia University
Studies focused on sustainability, design, community engagement, communications, and/or other areas in which this position would contribute to the candidate's learning
When applying, please indicate that you saw this posting at GoodWork.ca.