LOCAL FOOD JOBS
Position: Ecological Farm Worker
Farm: L'Hirondelle Farm
Location: near Bouctouche, New Brunswick
Housing: affordable rentals nearby / trailer on site (see below)
Type: full-time paid ($14/hour)
Term: May to October with a possibility of year round work 
Become a part of our farm crew! Grow vegetables, raise pastured poultry, harvest wild fruit and be part of a community of food producers working towards a sustainable local food system. Best of all, you can work outside in a peaceful corner of Kent County NB.
L'Hirondelle Farm is a small family operation; we started learning about our local ecosystem through homesteading 10yrs ago and have transitioned into full time farming.
2020 is our third year in business, we grow a market garden, a CSA (Community Supported Agriculture) box service, preserve value added products for winter sales, and we raise pastured poultry for eggs and meat and sell wild foods to local restaurants and foodies.
We work with a community of other small farms and are members of Canada's first Slow Food Earth Market. Our clients come to the farm and also buy from us at the Bouctouche Farmers Market. We work as a team and there is lots of opportunity to learn about ecological farming try new ideas and have fun at work.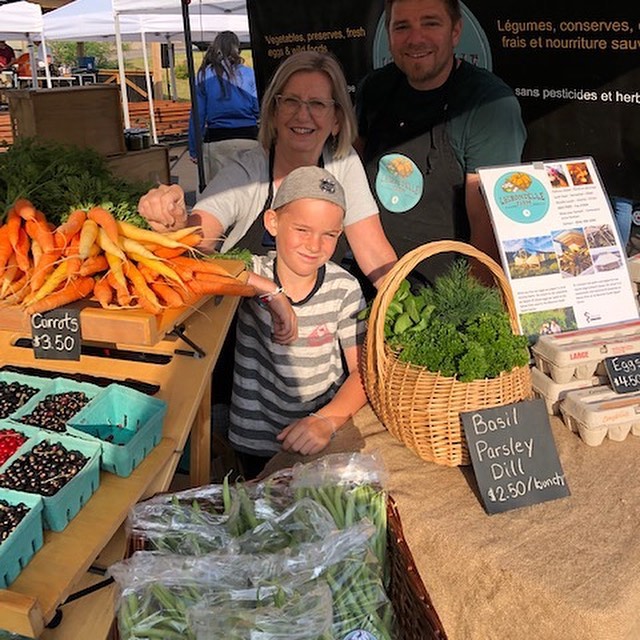 The team:
Shelley specializes in gardening, food processing and preserving
Aaron takes care of the animals, collects wild foods for sale and takes care of marketing
We are often joined by family, volunteers & work-exchanges with friends/neighbors
Our sons Clem (5 yrs. old) & Griffen (9yrs) help when it suits them…
The dogs Chilco and Bumstead provide constant good company and keep the chickens safe
The Job:
You would mostly work in the field with Shelley (Farm Manager), preparing beds, starting seeds, planting, weeding, irrigating, harvesting and helping out with various farm tasks from sales to helping collect wild food.
We work 5 days/week, 8 hours per day and you would be paid $14/hour
We provide certification in food safety and handling and training opportunities to learn from us and other farms in the area when we do workshops.
Employment is from May to October with a possibility of year round work depending on the market and harvest.
A perk of working at the farm is the food that we share every day; you can also bring home all the eggs you can eat and a cut of the harvest if you want. Our involvement and connection to the local food sovereignty in our region would make for opportunities to be part of the local food movement community if it interests you.
Requirments:
Preference will be given to applicants that have related experience and/or qualify for Federal and provincial youth employment program (must be between 15 and 30 years old)
Location:
The farm is situated in St-Marie-de-Kent a village 45 min North of Moncton, NB we live in a bilingual region surrounded by small communities and lots of woods to explore. We are a 15 min drive from Bouctouche (groceries, pharmacy etc.), the beaches of Northumberland Straight are 15 minutes away and the river is 5km down the road.
If you need accommodation there is affordable rent close by. We also have lots of space and could provide you with a comfortable trailer and as much privacy as you desire.
This is the job for you if:
If you like the idea of working with your hands in the outdoors
You want a Physically challenging but low stress work environment
Getting involved in farming and being part of a sustainable food system
Learning and sharing food skills
Once you apply we will quickly get in touch with you and answer any questions you have. After checking your resume and references we would want to have an interview (ideally you could come to the farm). We will follow up with all successful applicants and offer the job to the most qualified applicant ASAP.
To apply, please e-mail your resume and a brief covering letter to Aaron:
delashantz@gmail.com
subject: Ecological Farming
Please indicate you saw this posting at GoodWork.ca.