TORONTO JOBS
Hiring: Indigenous Eco - Landscaper
Social Enterprise: RAINscapeTO | Other positions
Location: City of Toronto, Ontario
Duration: 6.5 Months (April - November 2023)
Hours Per Week: 35 hours per week
Rate of Pay: $21 / hour
Are you looking for meaningful work that pays well and brings you closer to nature without leaving the City? Would you like to work with like-minded people?
Then we want to hear from you!
At RAINscapeTO you will be part of an eco-landscaping team that designs, implements, and maintains beautiful and earth-friendly gardens. Every day, you will be helping to build a sustainable and healthy urban landscape through the installation of sustainable native gardens (bioswales and pollinator, edible and rain gardens).
You can be part of a growing social enterprise that provides meaningful, culturally sensitive employment and training for emerging urban-placed Indigenous people. We value and respect the intrinsic connection of Indigenous peoples to the land as well as the rich ecological knowledge base held by the Indigenous community. As a member of our team, you'll have opportunities to share what you know with your peers and learn from local Indigenous community leaders and experts. We'll even help you build a career pathway that's right for you! For more information visit: rainscapeto.ca
ELIGIBILITY CONDITIONS:
Only Indigenous* applicants registered or eligible to be registered at Miziwe Biik Aboriginal Employment & Training will be considered. Please state this in your application. *Indigenous peoples, Status and non-Status First Nations, Metis and Inuit of Turtle Island (Canada).
JOB PURPOSE
The RAINscapeTO Indigenous Eco-Landscaper, will be part of a dynamic team of passionate landscapers in designing, installing and maintaining gardens on private and public properties across the City of Toronto.
This is a unique opportunity in a new and expanding niche of the landscape industry. You will receive online and practical hands-on training on the basics of eco-friendly landscaping, health and safety including First Aid/CPR, pollinator stewardship, and plant identification. You will have opportunities to attend community events, and the RAIN Garden Master Class training to earn a certification in the installation of rain gardens. And we'll support you in identifying your own personal goals through the creation of a professional development plan, and meeting regularly with your manager and the rest of the team.
No previous experience is required. Just a passion for ecologically and sustainably informed landscaping!
DUTIES AND RESPONSIBILITIES
The main responsibility of this position is to undertake all the tasks associated with the installation and maintenance of gardens on private and public properties under the guidance of the Lead and in collaboration with the team members. Some of these tasks include:
planting various and native plant species (i.e. bulbs, flowers, shrubs, trees);
digging rain gardens, grading;
disconnecting downspouts and redirecting water to rain barrels or rain gardens;
laying compost, mulch, soil, and installing other materials (i.e gravel, rocks, lining);
garden maintenance, including removing and/or trimming trees and plants; weeding, dead heading, pruning, seed collection, watering;
tool upkeep and maintenance;
cleaning debris, litter from residential and commercial jobs;
collecting, separating litter and removing weeds from BIA worksites;
providing professional customer service;
weekly reporting and team meetings with managers.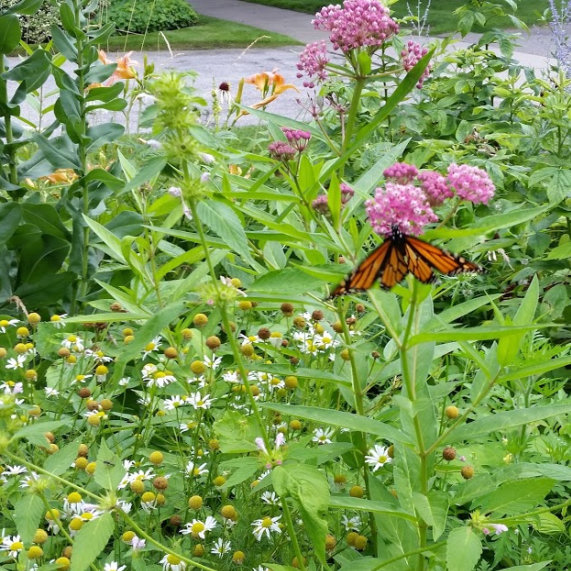 QUALIFICATIONS
Withstand up to 7 hours of physically demanding labour
Adapt to varying tasks, conditions and locations
Willing to work outdoors in changing weather (heat, rain, cold)
Responsible, punctual, detail-oriented, reliable and flexible
Manual dexterity, hand-eye coordination, attention to detail
Good interpersonal skills with the ability to work well in a team setting with co-workers and provide professional customer service for clients
Some experience in residential, commercial or community organic/ecological gardening and landscaping would be helpful
Interest in horticulture, plant identification, ecological gardening
Preference given to candidates with 'G' Class driver's license.
WORKING CONDITIONS
Work in varying weather conditions and spend extended periods outdoors
Repetitive tasks
Handling of heavy loads
Physically demanding – bending, crouching, kneeling, sitting, standing, walking, digging, shoveling, raking
TO APPLY FOR THIS POSITION
Email your cover letter and resume to:
Jose Torcal, Manager via email jose@torontogreen.ca
and
Paula Messina, Human Resources Advisor paula@torontogreen.ca
with "Indigenous Eco-Landscaper" in your email's subject line.
Please mention you saw this posting at GoodWork.
Deadline to Apply: 7 April 2023, 11:59PM
Please notify us in advance if you require any accommodations in the application process.
---
RAINscapeTO is a social enterprise created by the Toronto Green Community. Toronto Green Community is a charitable organization committed to providing a workplace that supports equity, diversity and inclusivity. We proactively strive to eliminate any form of harassment and discrimination and be equitable by building these objectives and practices into our teams, programs and services.
Thank you - miigwetch, tiawenhk, nia:wen, kinanaskomitin, maarsii!