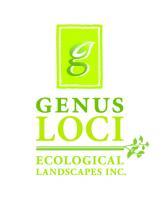 JOB POSTING
ECOLOGICAL LANDSCAPE CONSTRUCTION WORKER
Position: Ecological Landscape Construction Worker
Organization: genus loci ecological landscapes inc.
Location: Greater Toronto Area, Ontario
Start Date: April 1, 2019 (two positions) 
GENUS LOCI ECOLOGICAL LANDSCAPES INC. IS...
... no ordinary landscaping company. We are an innovative, foreward thinking landscape design-build firm specializing in ecological landscaping, ecological restoration and innovative green landscape technologies.  In a addition to the standard array of  standard hard and soft landscaping services, we design and build rain gardens, waterscapes,  bioswales and rain-water harvesting systems, natural swimming pools, native species plantings, living walls and permeable pavements. We restore,  rehabilitate and/or recreate lake and creek shorelines, woodlands, wetlands and other natural habitats. Our projects are planned and managed by a creative in-house team of landscape architects who take great pride in designing  unique landscapes that are beautiful, ecologically sustainable and cutting-edge. Through hard work and an unparalelled workmanship ethic, our seasoned and dedicated construction team then crafts these plans into reality.
Genus Loci is located King City, just 40 minutes north of Toronto. We work on rojects large and small for private and commercial clients across the Greater Toronto Area. Check out our website at http://www.genus-loci.ca to learn more about us, our mission and our projects. Ours is a safe, professional, safety- and training-oriented work environment in which to develop your skills and experience in the landscape trades. 
JOB DUTIES
Genus Loci is on the lookout for hard-working, ambitious, and responsible Landscape Construction Workers who can handle the rigours of the landscape trades, who have an interest in our line of work, and who want to do more than just lay brick and sod. This is a great employment opportunity for recent graduates of college landscape programs who are ready to begin their professional career. You will work under the direct supervision of the project foreman on the installation of a wide array of landscape construction projects, including ecological landscaping, hardscaping, planting, waterscaping, natural swimming pools, rainwater management systems, green living walls, ecological restoration and a host of other green landscape technologies. First and foremost, you will provide the general labour services required to build landscapes from the ground up. You will also be given opportunities and training to develop your technical skills in all aspects of the landscape trades. Your responsibilities, wages and opportunities will grow in tandem with your willingness to work hard and learn by doing. This position has the potential for long-term employment and professional development for those who demonstrate superior skill, learning ability, productivity and work ethic. We pay for your travel time in our trucks, and pay overtime rates for extra work hours.
WAGES
Wage scale: Commensurate with experience, qualifications and performance, somewhere between $17 and $21/hr. We offer 45-50 hr workweeks (on average). These are full-time seasonal positions offering 1500 - 1750 hours between April and December. 
JOB REQUIREMENTS: YOU...
must have access to a vehicle in order to get to and from our yard in King City
are eager to develop your skills working with an innovative landscape company focused on the design and application of green, eco-friendly landscape technologies
are a keen, energetic and effective worker
have at least one year experience in the trades; however, we will consider any candidate we think is fit for this job, regardless of experience;
are smart, creative and resourceful, and are motivated to make up for any lack of experience with a strong desire to learn and grow into this position
are physically fit and have a demonstrated ability to deal with the physical demands and rigours of landscape construction
are committed to a safe workplace environment
Please send your resume to Jean-Marc Daigle at:
jeanmarc@genus-loci.ca
When applying, please indicate that you saw this posting at GoodWork.ca.