ECO-FRIENDLY LANDSCAPING
Position: Landscape Worker in Eco/Pollinator-Friendly Company
Type: Part-Time, Seasonal (3 Days/Week)
Organization: Roses of Sharon
Location: East End Toronto, Ontario
Pay: $20.00 - $25.00/Hour
We are looking for a creative, energetic addition to our team. You enjoy the outdoors and working in an organic, environmentally-friendly way with a dedicated crew.  We work hard, and have fun!
You will pay meticulous attention to detail, and have the physical strength for the heavier landscape work. A strong work ethic, and ability to work independently is critical. Our team approach is collaborative and based on respect: for each other, for clients and for the landscapes we work on.
Our work includes: Small Stone walls, Flagstone Setting, Planting of Trees/Shrubs/Perennials/Decorative Urns. Urban Food Growing is also something we promote and facilitate. We are known as experts in Pruning of small trees and shrubs. We create garden beds, design plantings and maintain some properties.
Organic Gardening/Environment: We try to garden in a sustainable, environmentally conscious way. Pollinators are our passion, and we plant to attract them to our safe, chemical-free gardens.  In 2018, we were rewarded with successions of Monarch butterflies on several of our properties! (See Photos)
Work Hours: Work Commences late March or early April. A typical day starts at 8 am, with finish at 5 p.m. Longer hours may be needed based on extra work at the beginning or end of the Season. We work until the end of November, early December - weather permitting. Some indoor planter work continues through the Winter.
Experience/Education: Relevant Landscape Training and/or related Work Experience and Plant Knowledge required. Experience with pruning tools, hedge-trimmers, garden edgers also important. We do NOT use any gas-powered tools.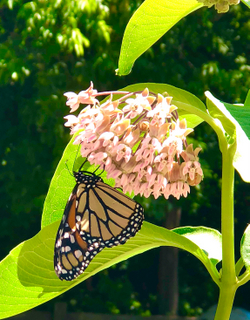 Other Assets: Driving experience and own vehicle very helpful. Adaptability to changing situations (weather, unexpected challenges), good artistic sense and communication skills. Sense of humour!
Please forward Resume and Cover Letter to:
Sharon: rosesharon18@yahoo.ca
If you need some quick answers to questions, Text Sharon at: 416-707-2251
When applying, please indicate that you saw this posting at GoodWork.ca.