ADVENTURE TOURISM JOBS
Positions: Construction Labourer
Employer: Rocky Mountain Adventure Park
Location: Golden, BC
5 laborer positions to fill immediately with many options for growth and certifications.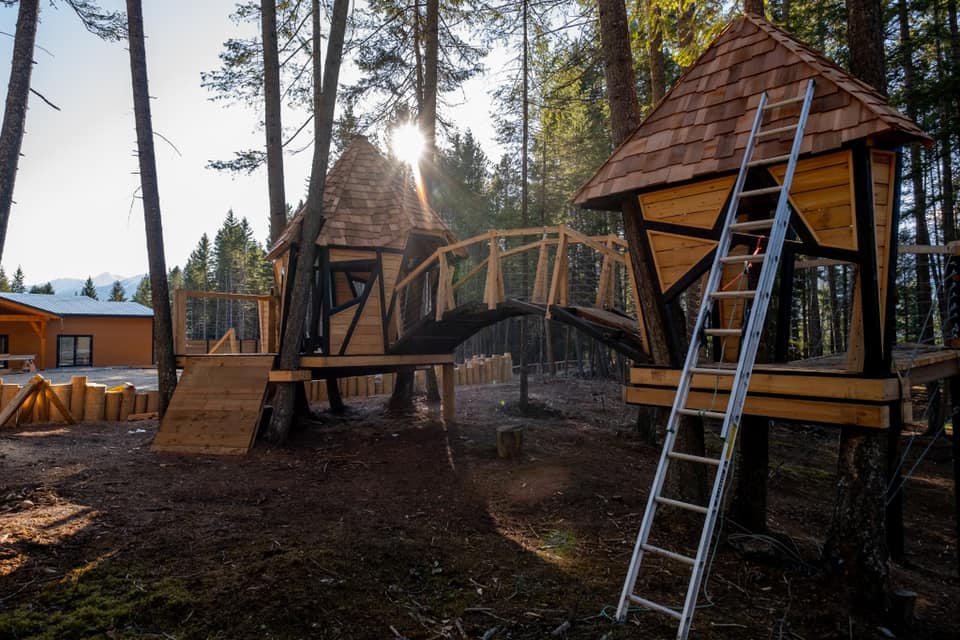 Join our adventure crew! We are a startup company who is professional and easy going, with lots of employment options for growth, certification training, and long term employment in the adventure tourism industry. With competitive wages, job perks and a family like team.
(Must live in the local area, must be a Canadian resident)
Rocky Mountain Adventure Park is a 100 acre tourist attraction and family adventure park, located at Golden BC on the western slopes of the Canadian Rocky Mountains. Featuring two of Canada's highest suspension bridges, canyon edge family walking paths, canyon swing, outdoor live entertainment and food plaza, and tree fort playground, with more attractions to come. Opening May 2021.
See where you can work https://www.youtube.com/watch?v=IwxldsulFLA&t=5s
Rocky Mountain Adventure Park is seeking inexperienced and/or experienced construction and landscape laborer's starting immediately; most positions working till late fall 2021. Hiring is ongoing till all positions are filled.
Work is primarily performed outside in all weather conditions.
REQUIREMENTS
Own steel toed boots
Good fitness and mobility
Willingness to learn
Good with heights (Regular walking across a suspension bridges)
Ability to work self directed for long periods of time
Optional Requirements
Operations of a skid steer
Operation of a mini hoe
Operation of a chain saw
WAGE
$18/hr to $24/hr - depending on experience.
---
OUR WORK CULTURE
Experiencing moments is our business. We strive to create moments of wonder, play and adventure in the lives of our staff and guests. Our staff are the core builders of our culture, and live the principles of play and mindful moments to our guests. Our management team coaches and encourages this experience through leading by example, encouraging community development, and ingenuity in their work.
The RMAP team is hired through our core team directives. Playfulness, Mindfulness, Willingness, Certification and Qualification.
Playfulness: Our team is playful and ingenious with staff and guests.
Mindfulness: Our team listens and is mindful of the expectations and experiences that we offer and of our guests wants and needs.
Willingness: Our team is willing to go the extra, to learn and self develop and take initiative to create individual moments for our guests.
Certification: Our technical staff have prior training for their specific employment
Qualification: Our technical team has experience in critical roles.
ABOUT ROCKY MOUNTAIN ADVENTURE PARK
Mission Statement
Rocky Mountain Adventure Park sparks special moments with your friends and family. Our venue hosts unique, safe, sustainable and environmentally conscious family adventures and community events amongst the unique natural landscape of our park.
Our Promise
As a business to be an industry leader in adventure adventure park safety for our guests and staff, continuously encourage attraction innovation, and support staff development. We will support our community through partnerships and community development.
http://www.RockyMtnAdventurePark.ca
SOCIAL
Facebook https://www.facebook.com/rockymtnadventurepark
Instagram https://www.instagram.com/rockymountainadventurepark/
LinkedIn https://www.linkedin.com/company/rocky-mountain-adventure-park
Twitter https://twitter.com/adventure_rocky
We gratefully acknowledge that we work, live and play on the territory of the Ktunaxa and Secwepemc Nations and the home to the Métis Nation Columbia River Society.
Please indicate you saw this posting at GoodWork.ca.