JOB POSTING / CONTRACT
Position: Coordinator, Water Projects
Organization: Red Squirrel Conservation Services
Location: Kingston, Ontario

Term: Between 3 and 5 days/week, March through November 2019. The Depave Project has multi-year funding, and there is the possibility of extension for up to 3 years.
Compensation: $18.00/hr
Desired Start Date: March 2019
Reporting To: The Water Projects Coordinator will be a part-time employee of Red Squirrel Conservation Services, reporting to the Executive Director. The Coordinator will also work in collaboration with project partners.
Project Background:
Red Squirrel engages in a variety of activities related to water conservation and water pollution prevention. Among them are depaves (below) and building rain gardens. Most of the Coordinator's work will revolve around these two focus areas.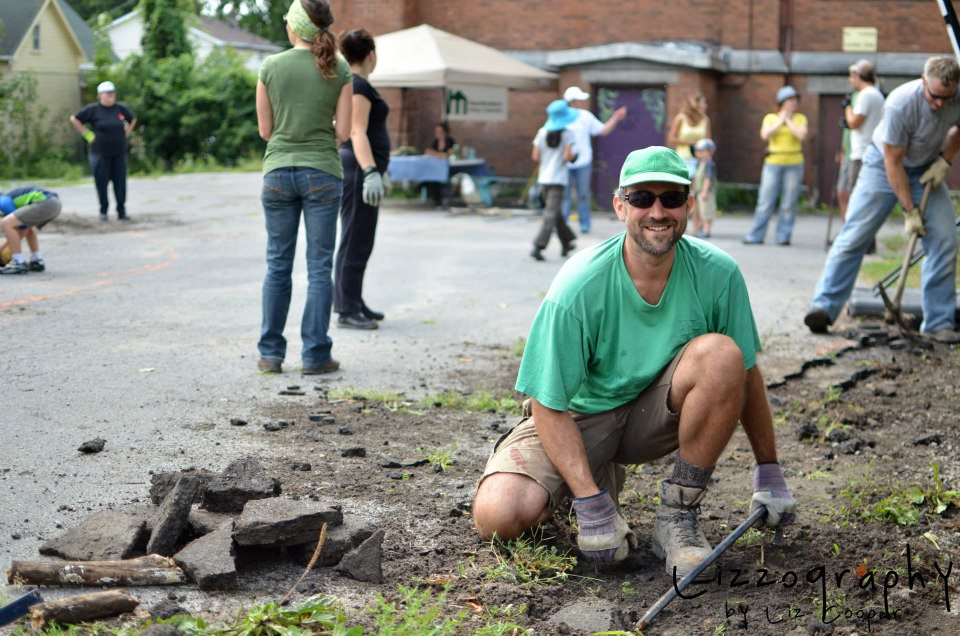 DePave Paradise: Depave Paradise is a project of Red Squirrel and Green Communities Canada in which volunteers and neighbourhood residents remove unwanted pavement in urban areas and replace it with gardens filled with trees and native plant species.
The hands-on depaving process captures the hearts and energies of community members who work together to make their surroundings more liveable. Depave Paradise projects make permanent and positive changes to communities and encourage others to act.
One Depave project has been identified for Spring 2019; the Water Projects Coordinator will be expected to locate up to three other sites.
Rain gardens: Ideally, the Coordinator will have some knowledge of rain gardens (what they are, how to build them, why they are useful). Depending on funding, the Coordinator may be asked to play a key role in neighborhood rain-garden building projects.
Position Background:
For each Depave project, the Coordinator will lead planning, communications, contractor and volunteer coordination and implementation activities. Project management and landscaping experience is essential for this position. Timelines for Depave projects are short, and the Coordinator will be required to skillfully balance a number of shifting priorities and deadlines throughout their contract.
Key Responsibilities:
Overall Project Coordination: Lead the coordination of Red Squirrel's Depave Paradise efforts, including project scheduling, engagement, permitting, implementation, monitoring, communications, and evaluation.
Planning and Development: Develop a detailed work program consistent with our funding commitments.
Landscape Project Planning and Implementation: Support the development of project designs; lead logistical planning, coordination, and ordering of planting materials, tools, and equipment for all depave projects in collaboration with key staff, volunteers, contractors, landowners, and partners support the depaving and planting of the site.
Volunteer Coordination: Lead coordination and supervision of volunteer recruitment, scheduling, communications, and training. Ensure that Health and Safety practices and procedures are understood and complied with.
Project Budgeting, Evaluation and Reporting: Maintain balanced project budgets. Lead development of Depave project reporting and evaluation as necessary.
Partner Relations: Regularly participate in check-ins and meetings with project partners and funders, including monthly Depave meetings and occasional trainings. Support strong and effective relations with project partners, businesses landowners, and funders.
Material & Resource Development: Identify and support the development of presentation, display, marketing, and resource materials needed for programming and promotion.
Assist with grant writing to secure funds for expanded programming.
Qualifications:
Post-secondary degree or diploma in related field and/or minimum 2 years' experience in a related field
Experience working with volunteers and community-led projects
Familiarity and knowledge of local species, landscaping and gardening best-practice, garden maintenance, rain gardens, and landscape design
Strong organizational, scheduling, and event planning skills
Excellent communications skills (both verbal and written)
Be reliable, organized, and punctual
Current police reference check
Valid driver's license
About Red Squirrel:
We are a small environmental nonprofit with an office in a heritage house in downtown Kingston. We strive to provide an enjoyable working environment by providing employees with flexible schedules and encouraging them to bring their own ideas to the table. Our close relationship with our umbrella organization, Green Communities Canada, allows us to offer periodic professional development opportunities to staff.
How to Apply:
Please submit a cover letter and resume, as a single PDF, to:
executivedirector@redsquirrelconservation.ca
with the following subject line: "Water Projects Coordinator Application".
Submission Deadline: Jan. 25, 2019
We thank all candidates for applying; only candidates selected for an interview will be contacted.
To perform the essential functions of this role, the Coordinator will be required to complete physically demanding tasks, including: lifting, shoveling, bending, kneeling, pulling, and carrying. The Coordinator should be able to lift a minimum of 40lbs. Red Squirrel invites applications from anyone who feels they meet the qualifications of this posting. Red Squirrel is committed to employment equity and diversity in the workplace and welcomes applications from People of Colour, Indigenous People, and other visible minorities; persons with disabilities and who are differently abled; and persons of any sexual orientation or gender identity.
When applying, please indicate that you saw this posting at GoodWork.ca.