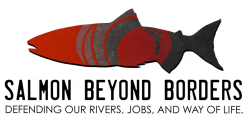 JOB POSTING / CONTRACT
Position: Transboundary Rivers Communications Strategist
Organization: NPCA / Salmon Beyond Borders
Location: Vancouver or Victoria, B.C.
Status: Part-time contracted position (0.5 - 0.8 FTE)
Position Summary
Conservation communications strategist to develop and lead integrated communications advancing policies that protect transboundary waterways shared by British Columbia and downstream U.S. states.
This position is based out of the Vancouver or Victoria region in British Columbia, to maximize proximity to key provincial decision makers and B.C. media outlets. The successful applicant will work with conservation and community partners throughout the province and region, including Montana, Washington, Alaska, and Idaho, to manage internal and external communications. This includes developing an overall strategy and narrative for change, and implementing it through media relations, advertising, marketing, and social media. This position will also develop promotional campaign products.
Essential Responsibilities and Tasks
Identify and maintain contact with relevant media outlets and community partners
Develop and promote the B.C.-U.S. transboundary rivers story with local, national and international media outlets
Develop a strategy for implementing change at a policy level, targeting key decision-makers, that can be implemented through communications
Develop and implement strategic and integrated communication plans for print and electronic media; includes drafting/finalizing communications materials, op-eds, press releases, web content, blog posts, and other necessary media platforms.
Qualifications
Advanced degree and minimum 5 years of communications/media experience;
Established relationships with B.C. and Canadian journalists and major media outlets;
A clear understanding of and familiarity with the B.C. government, decision makers, environmental campaigns, and how to effect change in B.C. and Canada;
Ability to work and achieve results while working autonomously;
Proficiency using Canadian Press writing style and online project management systems;
Ability to travel, occasionally in small aircraft and boats, and to work weekends and evenings
Online engagement skills, including social media, blogging, and web writing;
Experience managing supporter data with systems such as Salesforce is recommended;
Experience working on public policy campaigns is recommended;
Previous experience with B.C. environmental campaigns recommended;
Previous experience with B.C. government relations is optimal, though not required;
Basic photography/videography skills, as well as editing, is recommended.
Please send your questions and applications materials (letter of interest, resume, three references, and three writing samples) to:
Michael Jamison (mjamison@npca.org)
and Mary Catharine Martin (mc@salmonstate.org)
by June 24, 2018.
When applying, please indicate that you saw this posting at GoodWork.ca.