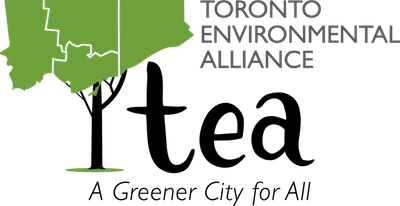 EMPLOYMENT OPPORTUNITY
Position: Executive Director
Organization: Toronto Environmental Alliance
Location: downtown Toronto, Ontario
The Toronto Environmental Alliance is seeking a senior non-profit leader and experienced campaigner to become its new Executive Director.
Who We Are:
TEA is a non-profit organization founded in 1988. Our mandate is to promote a greener Toronto for all. We work with concerned individuals, grassroots organizations, professionals, workers, and elected officials. TEA envisions Toronto as a green, healthy, and equitable city with economic activity that sustains our environment. We encourage the participation of local residents to address local issues.
TEA is recognized Canada-wide for our municipal work on climate change, waste reduction, toxics reduction, transit, Greenbelt protection, energy efficiency, and green power - issues we believe are critical to the health and well-being of Toronto residents. Our collaborations with the community (eg. community groups, labour groups, small businesses, anti-poverty groups) are cherished and key to our past and future successes.
The Position:
Environmental Policies and Programming: In collaboration with the TEA staff and board, develop annual work plans based on the strategic plan, environmental goals and campaign strategies/plans. Provide leadership to fulfill TEA's organizational mandate and vision. Develop and foster relationships with community allies, decision-makers and politicians.
Governance and Operations: With the Board and staff, update existing policies and develop new policies for approval by the Board of Directors. Ensure that TEA's operations are compliant with these policies. Disseminate new policies to staff and continually integrate feedback from the staff and Board into TEA's HR Handbook. Lead TEA's annual staff strategic planning retreat and monitor achievements with the Board. Update, when necessary, the long-term direction and goals of the organization. Seek approvals and guidance from the Board on important organizational issues and issues that may pose risks to TEA.
Human Resources: Oversee all hiring, supervision, evaluation, dismissal and professional development of staff and volunteers. Work with the Development Director and Campaigns Director to ensure there is a productive and healthy work environment. Encourage growth of staff capability, retention, and job satisfaction through professional development. Commitment to workplace equity and diversity, along with experience implementing anti-oppressive practices in a workplace environment.
Communications/Public Relations: Provide strategic oversight of all communications and public relations in line with the strategic plan of TEA. Cultivate public relations opportunities that further the mandate of TEA and participate in communications to promote TEA's work.
Financial Management: Oversee the organization's finances. Ensure that financial procedures and policies are followed in accordance with the directives of the Board and all other legal and regulatory requirements. Monitor cash flows and lead the preparation of the annual budget. Act as fiduciary officer of TEA with the power to contract and bind the organization, pursuant to TEA's Fiscal Policy.
Fundraising: Working with the Development Director, generate revenues to meet annual budget projections. Approval of all funding proposals and budgets. Develop and maintain relationships with individual donors and funding organizations - foundations, government, and others, in coordination with the Development Director.
Qualifications:
University or college degree or equivalent experience.
Experience with developing and executing campaigns focusing on policy development and change by government (municipal experience and grassroots campaigning are assets). At minimum, 3-5 years of government relations experience, preferably some experience at the municipal level.
At least 5-7 years demonstrated progressive management experience including non-profit management, staff oversight, volunteer management and team building.
Ability to speak a second language would be an asset.
Skills
Strong fundraising skills
Excellent communications skills
Advanced strategic thinking, problem-solving, and issue advocacy skills
Ability to use and integrate a variety of campaign strategies, tactics, and modern campaign tools
A proven track record in creating and managing budgets, using financial tools to oversee organizational finances, and delivering consistent, sustainable budgets
Good understanding of environmental justice and equity issues
Strong interpersonal skills, including managing staff and volunteers
Experience in building and working with broad-based alliances and diverse groups
Ability to work with communities in all parts of Toronto, especially those outside the downtown core
Experience with database systems, social media, and other internet-based communications systems
Experience in maintaining a respectful and supportive workplace, including a commitment to anti-oppressive workplace practices and policies
Experience in developing effective communications and media relations strategies
Terms of employment:
Full-time permanent position. Salary is commensurate to experience.
Application Procedure:
Please submit a letter of interest and a detailed resume by October 29 to the attention of:
Chair

torontoenvironment.org*
The Toronto Environmental Alliance (TEA) is committed to employment equity and creating a workplace that represents the diversity of Toronto. TEA is an equal opportunity employer and encourages members of equity-seeking groups to apply. Women, people of colour, people with disabilities, those who identify as LGBTQ2S and those who identify as Aboriginal are encouraged to apply for this position and self-identify. Unfortunately, the TEA office is not wheelchair accessible. However, TEA will make accommodations during the hiring process, upon request, to applicants with Dis/abilities. If contacted, please advise us if you require any accommodation.
When applying, please indicate that you saw this posting at GoodWork.ca.
*Email: The e-mail address above has been masked to prevent spam. Please copy the address or type it manually, add the @ sign, remove "mask" and any spaces.