TEACHING JOBS
Position: Teacher/EA
Organization: The Owl's Nest Holistic Alternative School/Forest School
Location: Harriston, Wellington County, Ontario
The Owl's Nest is currently seeking the following:
Grade 1/2 teacher
Grade 5-8 teacher
Full time EA
Tuesday/Thursday planning time teacher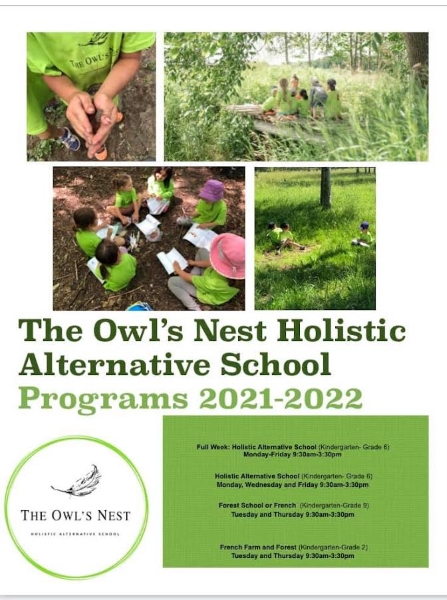 The Owl's Nest is a vibrant holistic alternative school situated in the midst of organic farm fields, forests, creeks and open fields. There is a focus on inquiry and play-based, outdoor learning, including risky play, embracing loose parts and the joy of childhood! Class sizes are kept small and the bulk of the day is spent outside, where learning is blended with a connection to nature.
The Owl's Nest creates an educational experience that holistically approaches the whole child as well as specializes in individualized education. With the structure and support of experienced Ontario Certified Teachers (OCT), Early Childhood Educators and Various Specialized Educators, children explore interests and expand their potential in a multitude of ways. Through engaging in nature, experiential learning and child-led experiences, the school evolves and grows organically and dynamically, just as the diverse nature of each student.
If you feel a calling to blend your passion for teaching with your love of the outdoor environment, visit http://www.theowlsnestschool.com, and check out @theowlsnestschool on facebook/instagram to learn more.
To Apply:
Please visit https://www.theowlsnestschool.com/career-opportunities for more details. Contact carly@theowlsnestschool.com for more information or to apply for any of the above positions.
Please indicate you saw this posting at GoodWork.ca.