JOB POSTING / CONTRACT
Hiring: Highway Connectivity Project Coordinator
Organization: Yellowstone to Yukon Conservation Initiative (Y2Y)
Location: SW Alberta or SE British Columbia
Term: 13 month contract, ~24–30 hours/week (see below)
About the Organization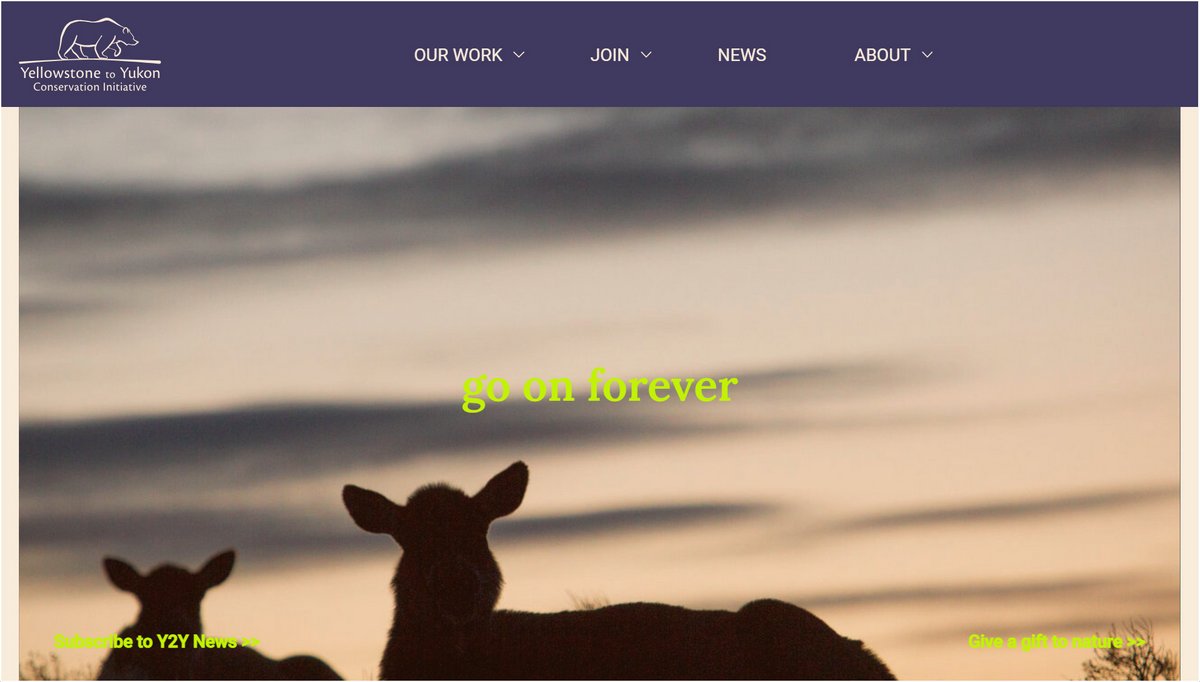 Yellowstone to Yukon Conservation Initiative (Y2Y) is a joint Canada-U.S. not-for profit organization with a mission to connect and protect wildlife habitat from Yellowstone to Yukon so people and nature can thrive. We are the only organization dedicated to securing the long-term ecological health of this entire region. We take a scientific and collaborative approach to conservation and highlight and focus on local issues that affect the region. Since 1993, Y2Y has worked with more than 460 partners to stitch together this landscape, including scientists, conservation groups, landowners, businesses, government agencies as well as Indigenous Peoples (First Nations, Métis, Inuit, and Native American). For more information, please visit y2y.net.
Position Description
Y2Y seeks an experienced collaborator and strategic thinker for the position of Highway Connectivity Project Coordinator. This 13-month contract position will report to the Y2Y Landscape Connectivity Coordinator and will assume responsibility to advance the Reconnecting the Rockies project along Highway 3 through British Columbia and Alberta. The Highway Connectivity Project Coordinator will be the principal liaison with partners and stakeholders, managing the development and implementation of internal and external communications strategies in close consultation with Y2Y communications staff, and acting as a champion for highway mitigations in support of wildlife along key sections of Highway 3.
Background
The Highway Connectivity Project Coordinator position will support Y2Y's work to improve habitat connectivity for wildlife within the Canadian portion of the Crown of the Continent region. This work expands on the BC-based Reconnecting the Rockies project to improve wildlife connectivity along Highway 3 on both sides of the Alberta-BC border while also improving motorist safety through reduced wildlife-vehicle collisions. The Highway 3 region is one of the most ecologically significant valleys in the 3,400-km-long Yellowstone to Yukon region, providing important habitat and connectivity between protected areas in the U.S. and Canada for grizzly bears and other wide-ranging wildlife. This project presents an important opportunity to advance and normalize wildlife connectivity considerations on highways in the Yellowstone to Yukon region.
Responsibilities
1. Project Planning
a. Work with the Y2Y Connectivity Team and Reconnecting the Rockies group to develop and implement the 2023-24 project plan, including relevant stakeholder milestones and deliverables;
b. Develop quarterly and end-of-project reporting, including relevant stakeholder deliverables;
c. Track budgetary expenditures and ensure alignment with the line items in the contribution agreement.
2. Communications Strategy
a. Work with the Y2Y Connectivity and Communications teams and Reconnecting the Rockies group (and if applicable, consultants) to develop and implement a communications strategy to tell the story of wildlife connectivity as it relates to this project;
b. Communicate key messages with relevant stakeholders, including local communities and the Calgary and Lethbridge public, through various online and offline media, in order to build visible public support for green infrastructure projects on highways that protect the public and wildlife;
c. Establish or build on existing relationships with key corporate, Indigenous and government agencies to share the value of supporting wildlife connectivity to broad audiences.
3. Stakeholder convening
a. Lead regular Reconnecting the Rockies working group meetings (inperson and/or virtual) and field trips as required;
b. Work with the Y2Y Connectivity Team to liaise with relevant Alberta government ministries, Indigenous People, partners and other stakeholders as appropriate to advance Alberta Highway 3 working group;
c. Meet regularly with Alberta and B.C.-based agencies and other partner groups, sets up systems, schedules meetings, etc.
Candidate Profile Knowledge/Skills:
Strong interest in and demonstrated commitment to conservation and the vision of Yellowstone to Yukon Conservation Initiative;
Strong project management skills and experience working with rightsholders, stakeholders, and individuals (e.g., Indigenous People, other communities, local, regional and provincial government, researchers);
Demonstrated proficiency in wildlife biology, conservation, ecology, or a related field, would be an asset;
Proficient in Microsoft Office (Outlook, Word, Excel, PowerPoint);
Communications expertise, including strategy development and execution, would be an asset.
Complexity/Problem solving:
Strong problem-solving skills, with a demonstrated track record of managing projects with diverse interests and a wide range of stakeholders with sound judgment, tact and diplomacy;
Ability to collaborate and adapt to changing circumstances;
Strategic thinking skills, including ability to make decisions independently and in collaboration with management.
Communications/Interpersonal Skills:
Excellent oral and written communication skills, including public presentations;
Ability to inspire decision-makers in provincial transportation agencies, local and regional governments to see themselves as part of a larger effort to make highways safer for people and wildlife and to connect landscapes for wildlife.
Terms of Employment
It is expected that this individual will work 24–30 hours/week. The salary range for this position is $50,000-$60,000/annum, full-time equivalent i.e. $25-$30/hr equivalent, commensurate with the candidate's background and experience.
This is a part-time 13-month contract position with the potential for renewal and/or to become permanent. We are flexible in our employment approach for this role and would consider a term employment or contract relationship. The candidate will ideally be based in SW Alberta or SE British Columbia. Applicants must be legally eligible to work in Canada.
We prefer the successful candidate start as soon as possible.
Additional Information & To Apply
At Y2Y we value diversity — in backgrounds and in experience, and we need people from all backgrounds to help achieve our mission of connecting and protecting habitat from Yellowstone to Yukon so people and nature can thrive. Y2Y's team is empathetic, caring, and supportive. We are intentional about the team and culture that we are building, seeking team members that are not only strong in their own aptitudes but care deeply about supporting each other's growth. Y2Y is an equal opportunity employer and committed to diversity, equity, and inclusion in our workplace and in science, conservation, and society. We strongly encourage applications from members of groups that are underrepresented and/or excluded from these sectors, including but not limited to Black, Indigenous, and people of colour, people with disabilities, and members of the LGBTQ+ community. All of our employees' points of view are key to our success, and inclusion is everyone's responsibility.
To explore this opportunity further, please send a cover letter and resume with title formats as follows: "(Last Name) (First Name)" - Cover and "(Last Name) (First Name)" - Resume Subject: "Your Name" – Application for Highway Connectivity Project Coordinator to careers@y2y.net . Please indicate you saw this posting at GoodWork.
We thank all applicants but only those candidates selected for an interview will be contacted. No phone calls please. Application review begins upon receipt. Questions about the position can be directed to tim.johnson@y2y.net Short, preliminary interviews may be held via conference call or Zoom. If you anticipate needing accommodations for any part of the application or interview process you may contact, in confidence, Robyn Barton, HR Consultant at robyn@y2y.net .