GARDENING JOBS
Positions: Landscaper/gardener
Organization: Common Ground Landscape Design
Location: Toronto and the GTA, Ontario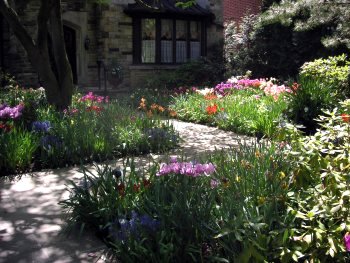 Common Ground Landscape Design is a small landscaping company based in Toronto. We design, build and maintain gardens all throughout the city. We have a number of regular residential customers who's gardens we maintain as well as a downtown BIA. Our season begins in early April and finishes around mid December depending on the weather. We typically work 9-5, but there are times especially in May when we start earlier and work later, but we will let you know in advance so you can plan accordingly.
We are looking for people who have experience in gardening, and who possess a strong attention to detail. You need to have a solid work ethic and the ability to work well with others and independently. You must possess a strong back and the skills to withstand a long day working with your body in all temperatures. You must be proficient in pruning, planting and weed identification. An eye for design and a knowledge of plants and their needs is essential. A good sense of humour is helpful and the ability to improvise when the soil delivery is 2 hours late or the last brown bag just got wet. The whole focus of our company is our attention to the details.
We are looking for 2 full time and 1 part time positions for the upcoming season.
Because we work in the city a driver's licence is not necessary, but helpful.
Payment is based on experience. Only qualified applicants will be contacted. Please forward your resume to commongroundlandscapedesign@gmail.com
Thank you so much for your interest, and good luck in your job search.
Beth Lawrence
When applying, please indicate that you saw this posting at GoodWork.ca.