TORONTO JOBS
Positions: Landscaper
Company: Common Ground Landscape Design
Location: Toronto and some cottage properties, Ontario
Common Ground Landscape Design is a small gardening company based in Toronto. We design and build gardens in and around the GTA and occasionally in cottage country. We focus mainly on residential properties, and we also look after a large BIA in the downtown core.
We are looking for people who have a few years of gardening experience. Our customers pay us hourly and this gives a chance to really clean and maintain a garden. You must be fastidious in your work and know how to prune shrubs, trees, roses and perennials at the right time in the season. You must know the difference between and plant and a weed, and know how to plant a wide variety of plants from 20 foot hornbeam trees to 4" perennials. You must have a strong back and be able to work in all kinds of weather in all kinds of conditions. Slopes, forests and in the very busy downtown core. A sense of humour is a must, because things can go sideways and you need to be able to improvise when your only rake has split in half or the last brown bag just got wet. We have a contract this year to be dedicated waterers for a down town BIA for their newly installed garden beds that we planted last year. This year we are installing over 850 perennials and 300 shrubs in this BIA.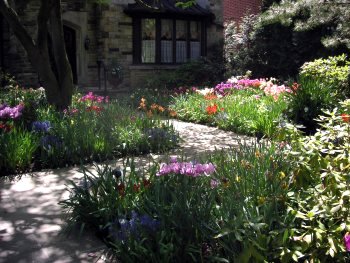 Our work days are typically from 9-5 Monday - Friday. In the very busiest part of the season (mid May – Mid June) we will need to work until 6:00 or later, and we usually know in advance to help you prepare.
We are interested in hiring diversely, and we invite any one to apply who has a good attitude and positivity they will bring to work everyday, ready willing and able to put in a good day's work with a seriously good crew. We are looking for people full time, part time and independent contractors. To be an independent contractor you must have your own vehicle or use public transportation, and have your own gardening tools such as a trowel, pruners and a shovel.
The season officially starts April 1st, and finishes in November.
Having your own vehicle is helpful but not necessary as most of our job sites are accessible by ttc.
  The pay scale is $16.00- $22.00 depending on your level of experience. 
Please send your resume to: 
commongroundlandscapedesign@gmail.com
We look forward to working you. 
Please indicate you saw this posting at GoodWork.ca.