FORESTRY & GHG EMISSIONS / REMOVAL
Hiring: Forester – Domestic Land Use
Organization: Ostrom Climate Solutions Inc.
Location: Anywhere in Canada
Company Description: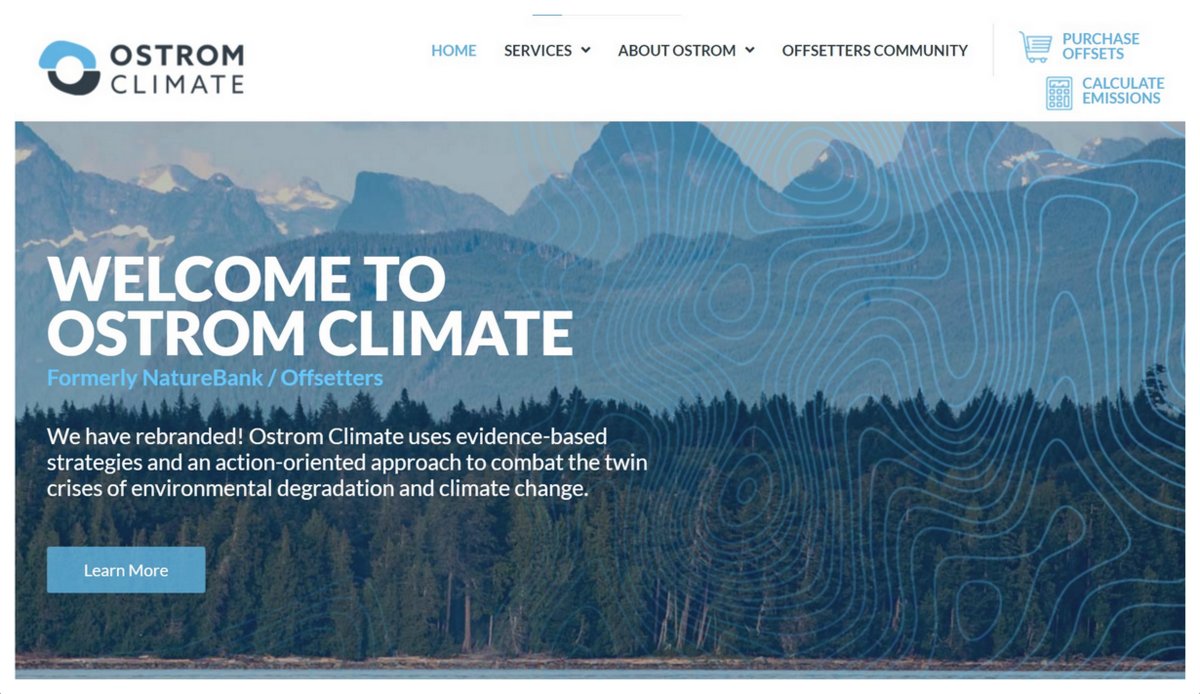 Ostrom Climate is a leader in the design, development, and implementation of Nature-Based projects and GHG removal projects including Improved Forest Management carbon offset projects. Ostrom has developed some of the world's largest carbon offset projects including the Great Bear Forest Carbon Project and the Mai Ndombe REDD+ Avoided Deforestation project, the largest of its kind in Africa. Our dynamic and energetic Domestic Land Use team focuses on improved forest management projects, and related services, in jurisdictions across North America including BC, Alberta, Saskatchewan, Ontario, Mississippi and Oregon. We are the Canadian leader in operationalizing successful forest carbon offset projects.
Ostrom Climate works with indigenous governments and communities, private landowners, government agencies and civil society to develop innovative forest carbon offset projects for the compliance and voluntary market.
See ostromclimate.com to learn more about our exciting work!
Role Description:
The ideal Forester candidate is an accredited RPF in Canada with an enthusiasm for the analytical aspects of forestry management (e.g. forest inventories, forest estate modelling, GIS analysis) and is a excellent communicator. The Forester will support Ostrom's exciting portfolio of forest carbon offsets projects across North America.
This role requires a proven understanding of forestry management, forest inventories, field work, forest estate modelling, timber markets, Canadian forest policy, wood products, carbon dynamics and issues around the science of climate change and climate policy in BC and across Canada. Knowledge of US or international forest carbon offset projects is an asset. This is preferably a full-time position, reporting to the Director of Domestic Land Use.
This role can be based remotely in Western Canada or Ontario and may require up to 15% travel.
Ostrom Climate offers competitive salaries and benefits, commensurate with candidate experience.
Responsibilities include:
Support development of new forest carbon offset projects including project design, development of risk assessments and development of monitoring requirements under voluntary (e.g. Verra), provincial and federal carbon programs.
Working with Indigenous People on Indigenous led project development
Support verification management of existing forest carbon projects
Assessing the feasibility of prospective forest carbon projects through desk-based and field research, and preparing feasibility assessment reports.
Assist with designing forest inventories and sampling protocols for estimation of carbon and other forest inventory variables.
Support field work related to inventory updates, development of monitoring plans and other aspects related to forest carbon offset project development
Contributing to quality assurance / quality control of technical products and deliverables.
Required Qualifications and skills
Bachelor's degree or higher in forestry or related field
Field experience working in Canadian forests.
Solid understanding of forest ecology, and land use dynamics
Basic understanding of forest carbon modeling
Strong written and spoken fluency in English
5+ years of relevant professional work experience
Project management experience
Very strong verbal and written communication skills; desire to be a team player and support colleagues across the company.
Advanced skills with MS Office Suite
Proficiency with GIS applications
Desirable Qualifications and skills
Experience with carbon markets, forest carbon project development.
Knowledge of issues related to climate change, land use, Atmospheric Benefit Sharing Agreements
Registered or eligible for immediate registration as an RPF in Canada
Experience with CBM-CFS3 (Carbon Budget Model of the Canadian Forest Service)
Experience working with Indigenous Peoples
A Master's Degree in Forestry, Natural Resource Management or related field
Coding and programming skills; query and analysis of data within a relational database environment (MS Access, SQLite, Python or equivalent).
Familiarity with forest growth and yield models, i.e. Forest Vegetation Simulator (FVS), FVSONTARIO, FVSBC and FVS-ACD; Open Stand Model, TASS including SYLVER and/or TIPSY; GYPSY and/or MGM.
Experience in forest estate modelling (e.g. Patchworks).
Experience in designing forest inventories.
Experience working with LiDAR spatial products.
The ability to work with minimum supervision and to make decisions that ensure the success of the team is an asset.
Ability to work with a diverse and multidisciplinary team
Please send resume and CV to:
DLU-jobs@ostromclimate.com
Please indicate you saw this posting at GoodWork.ca.