FOREST & NATURE SCHOOLS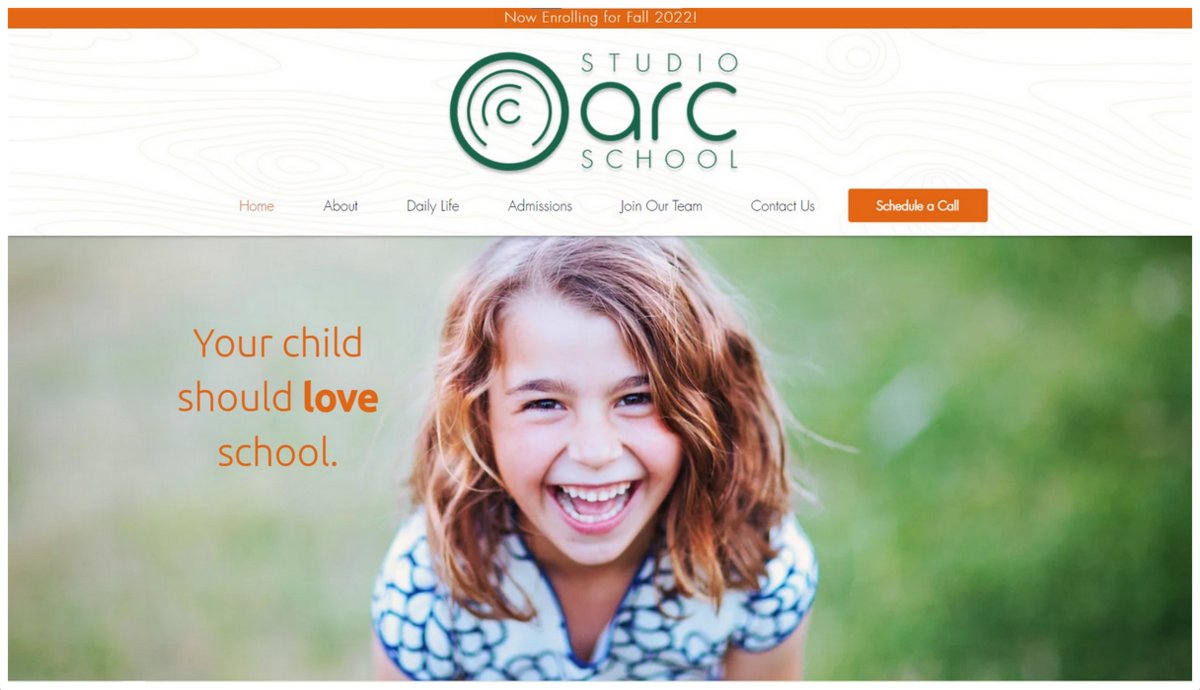 Position: Founding Elementary Guide (Pre-K through grade 6)
School: ARC Studio School, an Acton Academy
Location: Manor Park, Ottawa, Ontario
Do you want to change the world?
If your goal is to instill your love of learning in others while advancing your own professional growth, this is your chance to get in on the ground floor of one of the world's most innovative schools.
Position: Founding Elementary Guide with experience in Forest/Nature School
Start Date: Late December 2022
Job Type: Full-time, Monday-Friday
Preferred certification and experience:
Forest and Nature School Practitioner's Course certification, or equivalent
2 years Forest School Teaching experience, or equivalent
ARC Studio School in Manor Park, Ottawa is a one-room schoolhouse for the 21st century. We are opening our doors this January to learners aged 4-12 years.  We value curiosity, community, courage, and finding one's calling, and whenever possible, we seek to connect with the natural world.  We believe that school should feel like a great adventure where each child's unique journey is supported, inspiring and equipping them to discover their true potential and a lifelong love of learning. We offer mixed-age studios, choices within limits, large blocks of time for play/work, and freedom of movement; we value repeated time in the natural environment, risky play, and learning and growing through hands-on experience. We offer innovative elements such as Quest-like projects with real-world application, Socratic discussions, and apprenticeships.  We emphasize Socratic guidance as opposed to traditional teaching, and empower students to be in the driver's seat of their learning in an environment that is truly theirs. Moreover, our goal is to support each learner on a Hero's Journey as they seek to find a calling and change the world.
We are presently seeking a full-time Elementary Guide to lead our outdoor programming and support our learners indoors and out; Forest and Nature School Practitioner's certification, or equivalent, and experience working with children between 4-12 years of age, is a strong asset.
Position Description
As a Founding Guide you will work with our Head of School in delivering an exceptional full-day program with a focus on growing a love of learning.  You will be required to perform the following duties and undertake the following responsibilities in a professional manner and in collaboration with others:
Learn and practice the role of Socratic Guide and complete the Onboarding Quest
Supervise Heroes and support the upholding of the Contract
Prepare and lead the outdoor portion of our program
Assist in designing and leading signature learning experiences (e.g., Socratic Discussions, Quests)
Set up Studio materials and assure Heroes keep the space clean and tidy
Provide 1-on-1 Socratic support to learners as needed
Provide Chromebook support for our older learners when needed
Be present for team meetings, Open Houses, Welcome and Closing Parties, Exhibitions, and other school events
Assure world-class communication to Heroes, staff, and parents, and report serious matters confidentially to the Head of School
Participate actively in your own ongoing learning, including a commitment to attending and participating in Guide Squad meetings with Guides of other Acton Academy schools from around the world
Qualifications
We seek people with drive and a lot of heart. Even if your experience isn't a precise match for the role, passion and prowess will always win the day in our book. And if your career has taken you to some spectacular places? We love a good Hero's Journey story.  
A deep curiosity about life and a love of lifelong learning
Evident passion for being on a Hero's Journey
A desire to work hard, solve problems, and improve on everything you do
A genuine desire to collaborate with colleagues and a commitment to professionalism
Patience
Good observational and communication skills
An ability to multitask and remain calm under pressure
Excellent planning and organizational skills
Forest and Nature School Practitioner's certification
Experience working with children, aged 4-12 years
Strong relationship-building with children and a proponent of risky play
A commitment to practicing gentle, compassionate limit setting
Vulnerability and courage to try new things, make mistakes, and reflect
Bilingualism (English/French)
Up-to-date First Aid and CPR training
This is a position for an independent learner who: can work with little direct guidance; likes to collaborate, experiment, evaluate, and continually improve; has a deep respect for all children, believing that each human has genius within; and is a flexible problem-solver. It is essential that this person can learn fast, loves to work hard, and is an active reader and writer.
The position will begin late December 2022 with school start early January 2023. We run on 4-7 week Sessions with 1 week breaks in between Sessions. You will work 5 days per week, full-time. Compensation is commensurate with experience.
To Apply, please visit our website at www.arcstudioschool.ca, click on the "Join Our Team" tab, and follow the link.  Please feel free to reach out to our Head of School, Megan Lelli, with any questions about the position (info@arcstudioschool.ca).
Please indicate you saw this posting at GoodWork.