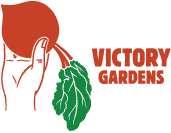 JOB POSTING
Position: Expert Food Grower
Organization: Victory Gardens Coop
Location: Vancouver BC
Expert Food Grower
Victory Gardens needs your help! We are looking for a fellow veggie-loving comrades to join our team and help people grow food right here in Vancouver, BC. Are you a person who is committed to creating a positive impact towards a more sustainable food system? Are you driven to provide an opportunity for people to connect to their food source in a fun and accessible way? Do you want to work in an environment that is meaningful and innovative? We feel you! By joining the team at VG, you'll not only be playing an active role in making Vancouver more healthy and sustainable, you'll also have the opportunity to work with a dynamic and driven team while getting hands-on experience with a growing social enterprise in an environment that is team-focused, supportive and spreads a positive message!
THE POSITION
We need an expert food grower to participate in all aspects of what we do: Installation, maintenance and education. The position requires someone who is dynamic, social, self-starting, committed to excellence in customer service and enjoys working as a part of a team and on your own.
Responsibilities:
IN THE GARDEN:
Installing new food gardens and all associated tasks
Maintain food gardens for new and existing customers
Potentially provide educational coaching sessions to new and existing customers
Brainstorm future educational opportunities that could expedite the grower's knowledge and success
Potentially facilitate upcoming VG workshops
Potentially lead community events such as seed and starter sales, community garden group coaching sessions
ADMINISTRATIVE ROLES:
Maintain customer files (communication and invoicing logs)
Communicate any future sales ops to meet customer needs, such as garden expansion, veggie preference, need for additional infrastructure like hoop houses, etc.
Potentially booking/scheduling and maintaining dialogue with customers as needed
Potentially assist in curriculum development for upcoming VG workshops
POSITION REQUIREMENTS:
Has a minimum of 2 years of experience and/or knowledge of organic agriculture/growing food.
Exceptional communication skills, verbal and written.
A combination of these skills would be a tremendous asset: Customer service, management experience, landscaping, horticulture, permaculture, biodynamic growing, carpentry, facilitation, etc.
The ability to maintain close and professional relationships with customers, and the ability to anticipate their needs, next steps and growing skill levels.
The ability to troubleshoot any issues or concerns in the garden and help ensure a healthy, productive veggie garden, filled with successful harvests.
Self-starter attitude – you take initiative when you see tasks that need to be done.
Time management skills and a sense of urgency in completing tasks. Punctuality is key, especially when arriving at scheduled coaching sessions with customers.
Flexibility to adapt to an ever-changing schedule.
Professional and reliable.
Must have a valid driver's license.
Preference towards candidates with a vehicle, and who is willing to use for work (with compensation for associated costs)
TERMS:
$18-20 hr to start
Full time (4 to 5 days a week) beginning Mid February until the end of season. Preferable to be available on some evenings and weekends.
Access to collective insurance plan / benefits after 3 months of employment
HOW TO APPLY:
Submit a resume and cover letter with the subject line: VG Expert Food Grower to team@victorygardensvancouver.ca by January 31st, 2019. Applications will be reviewed and interviews to begin first week of February.
When applying, please indicate that you saw this posting at GoodWork.ca.