EMPLOYMENT OPPORTUNITY
Position: Financial Controller
Employer: Hop Compost
Location: Calgary, Alberta
We're Hop, a compost technology company.
To support our nationwide growth, Hop is hiring a Financial Controller at our Calgary headquarters. The successful candidate will work with Hop's internal and external stakeholders on forecasting, reporting, and investment.
Hours
Full-time: 8:00 p.m. to 5:00 p.m., Monday through Friday
Offer
Salary: $72,500
Benefits: SunLife benefits, plus a wellness package
Vacation: Two weeks paid time
Stock options: To be discussed
Management Structure
Reporting to Hop's CEO and CTO
Reported to by Hop's management and accounting team
Engaged with Hop's Board, investors, and banking partners
Job Description
Hop has used its patented technology to open four inner-city compost facilities across Canada. We're growing at a rate of 12% per month, and quickly expanding into 16 new cities in Canada and the U.S.
Our growth is financed through strategic equity and debt investment, and the fiscal performance of each facility is critical to the company's pace. The Financial Controller directs the forecasting and reporting for each Hop compost facility. This financial material is used to direct operational decisions, and it's also used to manage external relationships with banks and private investors. The Financial Controller will manage and build these external relationships, helping to secure capital for Hop's ongoing expansion.
Job Duties
In this role, you will:
Work with Hop's management and leadership team to prepare facility forecasts and budgets; then, actively track and control costs in service of our performance.
Manage relationships with Hop's investors, overseeing the financial reporting required by stakeholders.
Develop and implement accounting strategies, policies, and controls as required.
Lead Hop's accounting team, liaise with auditors, and coordinate invoicing, payroll, financial statements, cash flow, and more.
Hop is growing rapidly, so this role is best for hard workers who are well adjusted to uncertainty, speed, and change.
Qualifications
To meet the basic needs of this role, you must:
Have a BCOMM or MBA from a North American institution
Have a CFA or CPA designation
Have experience in research and project management
Have domestic travel availability to visit Hop facilities
Be fluent in Microsoft office: Word, Excel, Outlook, and Powerpoint
Be fluent in English
The most qualified candidates will:
Have experience in both startups and large corporations
Have demonstrated success in raising capital
Have relevant financial experience in a manufacturing operation
Have volunteer or work experience in sustainability
Hop isn't easy, but it is very rewarding. Ready to create the future in sustainability tech? Send us your application today.
Applications
To be considered, applications must include a résumé, plus a cover letter that answers three of the following four questions:
Tell us about an investment structure that you helped to create for a company.
Tell us a story of a time when you implemented a new financial reporting system, and it was successfully used to reduce expenses.
Tell us about a challenging detail in financial statements while working with auditors or reporting to a bank.
Why do you want to work for Hop?
Your completed application should be sent via email to:
info@hopcompost.com
All applications must be received before 5:00 p.m. MST on July 16, 2018.
About Hop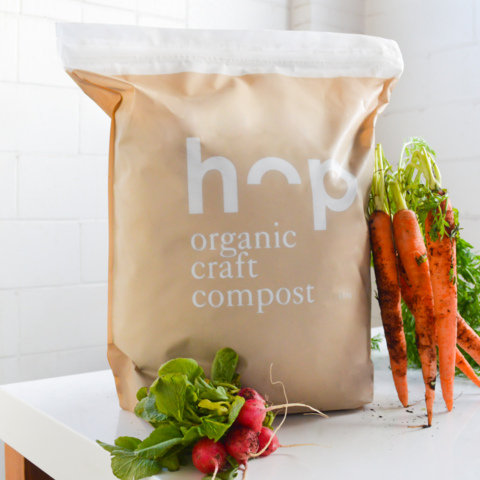 Hop uses patented technology to build inner-city compost facilities. Using these central facilities, we collect food waste from local restaurants, and process it into Canada's most nutrient-rich organic compost for local growers. With operations in Vancouver, Calgary, Edmonton, and Toronto, Hop has now saved more than 15 million pounds of food waste. We are a certified B Corp, and believe that technology is the future of sustainability. As part of this mission, we are committed to diversity and Living wage standards for our team.
When applying, please indicate that you saw this posting at GoodWork.ca.