JOB POSTING
Position: Farm hand on ecological/organic farm 2018
Type: full-time, paid plus lodgings., more (see below)
Organization: Moving Meadows
Location: near Chesley, Grey Bruce, near Owen Sound, Ontario (by car or bus)
Looking for Late October early November start date.
Moving Meadows is a 200 acre farm located in beautiful Grey Bruce, about 2.5 hours northwest of Toronto. As former city-dwellers, we deeply value the opportunity to live and raise our young family close to natural world and its rhythms. As stewards of this land, we welcome people to work-stay with us as we develop our vision for growing an ecologically responsible and economically viable farming operation while nurturing community both locally and beyond.
Seeking serious applicants preferably for a 6-month residential paid position assisting us with regular farm activities. In addition to operating our small farm, we manage a private food distribution service (hub) that works with other small local farms to deliver high quality products to a growing membership in Toronto and the GTA. The position would relieve us of some of the daily chores in order to free-up time for further business and infrastructure development, as well as a bit of family leisure here and again!
Responsibilities to include but not limited to:
Daily care of naturally raised, organically fed animals (cows, chickens) including stall cleaning, bedding, and feed
Regular equipment and facility cleaning
Assisting with property maintenance and infrastructure development
Seeding, transplanting, pest /weed control and harvesting organic, biodynamic inspired seasonal garden
Operating various farm equipment and tools
Landscaping and property maintenance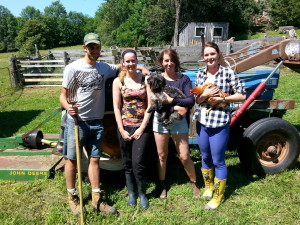 While experience is a welcome asset, we are seeking individuals with serious interest in small scale farming and who demonstrate some awareness of the rigours of the lifestyle, as well as the solitude that often accompanies country life. We seek an individual who :
Is honest, hard-working and reliable
Possesses excellent communication skills
Is able to follow direction well and who work efficiently and independently
Is physically fit and comfortable with outdoor work and changing, at times challenging weather conditions - able to lift 50lbs
Valid driver's licence an asset
Successful candidate will work approximately 35 hours a week, with some flexibility regarding work times and days required. Lodgings provided in a lovely trailer. Amenities include cooking area, fridge, living space. No running water, attached outhouse. Showers and laundry can be taken in the house. 
We are seeking someone to start in late October / early November 2018, preferably available to work for 6 months, and offer tiered compensation totaling $1200/month (first month $400, second month $800, third month and beyond $1200, with a $1200 bonus upon successful completion of 6-month contract). Non-Canadian residents welcome to apply but must demonstrate proof of health insurance for entire period of stay. We are unable to offer sponsorship. Open to consider couples, though compensation will remain as above.
Please email us with your resume, contact info, and why you would make a good fit for the position.
Miro and Kate Malish
miro@movingmeadows.com
gyandevi@movingmeadows.com
When applying, please indicate that you saw this posting at GoodWork.ca.