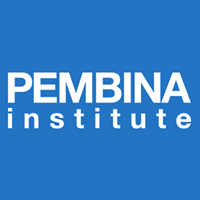 EMPLOYMENT OPPORTUNITY
Executive Director – Pembina Institute
Position: Executive Director
Organization: Pembina Institute
Location: Vancouver, Calgary or Toronto
The Pembina Institute is headquartered in Alberta. This is a full-time position requiring frequent travel.
Position overview
The Pembina Institute is seeking a dynamic, hands-on and values-driven leader with a national presence to head our team in our mission of leading Canada's transition to clean energy. The Executive Director's mandate will be to sustain and deepen Canada's recent strides in climate and energy policy by building on the Institute's influence as a leading authority on clean energy solutions, and by representing the organization at the highest levels. The Executive Director will lead our senior management team, identify new revenue sources and oversee financial performance.
About the Pembina Institute
The Pembina Institute is a non-partisan think tank that works to solve today's greatest energy policy challenges — reducing the harmful impacts of fossil fuels while supporting the transition to an energy system that is clean, safe and sustains a high quality of life.
The Institute is known for its research and technical capacity, evidence-based "tough but fair" approach, unparalleled convening power and deep understanding of industry. Our 45 staff members work from four offices on a $5-million annual budget. Our aim is to influence climate/energy policy in Alberta, British Columbia, Ontario and federally. Our revenue sources are diverse, including grants from Foundations and governments, fee for service consulting, special events and memberships.
Our staff are passionate about sustainability and dedicated to enabling positive social change. Our organizational culture encourages creativity and collaboration, and we offer a flexible and fast-paced work environment that rewards honest character, personal initiative and innovation. We value dedication, rigorous inquiry, intellectual integrity, constructive discourse, and care for our colleagues.
About the role
The Executive Director is a strategic leader and manager accustomed to a fast-paced work environment and adept at juggling multiple priorities. This role requires creativity, openness to challenging ideas and to being challenged in return, flexibility, a strong work ethic, excellent time and project management skills, rigorous attention to detail, entrepreneurship and resourcefulness. As a non-profit, we are efficient and strategic in our use of resources without cutting corners — defensible, trustworthy and evidence-based policy analysis is the bedrock of our reputation. The Executive Director's job is to uphold that standard across our regions and support groups.
Priorities
The Executive Director leads and manages our dynamic team in the execution of the Pembina Institute's strategic goals. These are to:
Enhance the Institute's influence as a leading authority on Canada's transition to clean energy.
Consolidate and expand on the gains of recent federal and provincial climate/energy agreements and policies, and ensure their successful implementation.
Build coalitions and convene strategic partners across sectors to develop informed, pragmatic, and widely supported solutions to challenges in Canada's transition to clean energy.
Advance the Institute's position as a thought leader in applied clean energy solutions across a wide range of sectors (conventional energy, renewables, buildings, transportation, cleantech).
Build public awareness of, and support for, clean energy policies, programs, and projects.
Identify new revenue sources.
Strengthen internal human resource policies, including compensation strategies to attract and retain top talent, and management practices to increase the effectiveness of our staff.
Specific responsibilities
The Executive Director reports to a nine member Board of Directors. S/he works with strong support from with a senior management team to achieve all aspects of the organization's strategy, influence, financial health, and operations. The Executive Director will:
Lead strategic planning and implementation, including any required change management initiatives.
Maintain a strong profile for the Institute with Canada's decision-makers and influencers, at multi-stakeholder tables and advisory councils, and through speaking engagements, media opportunities, and other communication strategies.
Recruit and retain top talent, and motivate, mentor and lead Institute staff, including supervising and building bench strength in the senior management team.
Lead the annual budget process and ensure the implementation of systems to monitor financial health, and to provide timely financial performance data to managers and the Board.
Achieve annual revenue development goals, with a focus on developing and maintaining sound relationships with key funders and consulting clients.
Develop and implement policies and practices necessary for the organization to achieve its annual operating goals, manage risk, and create accountability for performance targets across regions and support groups.
Ensure that the Board and its committees have appropriate and timely advice, information and necessary materials to fulfill their governance duties.
Candidate profile
Candidates for this position must reflect the following experience and competencies in their applications:
Experience
Significant experience in a senior leadership role and a demonstrated ability to develop, execute and measure the effectiveness of strategies.
Success in executing change management initiatives and achieving desired outcomes.
Experience with government relations, corporate engagement and policy advocacy approaches, and how to navigate potential conflicts between them.
Experience in forging partnerships with a range of allies and across industry and non-profit sectors.
Success in fundraising from diverse sources.
Competencies
Knowledge of clean energy policies and the political, social and economic contexts affecting decisions about energy and environmental policy across Canada.
Proven team leadership skills including performance management, a commitment to personal accountability and leading by example.
Strong facilitation, stakeholder liaison, writing and presentation skills.
Excellent interpersonal and group communication skills, and a proactive approach to managing work tensions and team stresses.
Financial and operational management acumen.
Efficient use of time in the face of competing demands.
In additional to the above, an understanding of international trends in climate/energy policy, and proficiency in French, are assets.
Compensation and benefits
The salary rate is competitive for an executive director in the environmental non-profit sector and will be based on skills, experience and qualifications of the successful candidate. Benefits include extended health and dental, four weeks of holidays per year, RRSP plan, and training and development opportunities.
Further terms of employment will be discussed with candidates during the interview process.
More information
Any questions can be directed to the search consultant: Stephanie Cairns, Principal, Wrangellia Consulting, pembinasearch

wrangellia.ca* , phone: 250.360.0456.
An Executive Brief with more detail on this opportunity is available on request.
To apply
Email your cover letter and resume to pembinasearch

wrangellia.ca* as follows:
Subject line: Executive Director and your last name.
Cover letter and resume saved as one PDF document using the naming convention lastnamefirstletter-application-position-year.pdf
example: smithm-application-Executive-Director-2017.pdf
Application deadline: Midnight (Mountain Time) on Sunday, March 26, 2017.
The Pembina Institute is an equal opportunity employer. We thank all applicants for their interest.
When applying, please indicate that you saw this posting at GoodWork.ca.

*Note: The e-mail address above has been masked to help prevent spam. Please copy the address and replace "mask" with @ .
Note: This posting is provided on an "As Is" basis and for general informational purposes only. People and Planet (also known as "GoodWork") is not responsible for the content, accuracy, timeliness, completeness, legality, reliability, quality or suitability of this posting. We do not screen or endorse the organizations or individuals involved. If you decide to accept an offer of employment, volunteering or any other arrangement, you do so at your own risk and it is your responsibility to take all protective measures to guard against injury, abuse, non-payment or any other loss. Please read our full Terms & Conditions.