JOB POSTINGS / CONTRACTS
Positions: Seasonal Environmental Education Assistant (Changing Currents)
Organization: EcoSpark
Location: Head office is based in Toronto with travel throughout Mississauga and the GTA, Ontario
Hours: f/t 3-month contract, April–June 2019
EcoSpark Backgrounder: EcoSpark is an environmental charity that empowers people to take an active role in protecting and sustaining nature. We do this by giving people the tools for education, monitoring and influencing positive change. We have a strong reputation in the areas of education, citizen science, community engagement and collaboration. To date, we have directly worked with over 76,000 youth and adults from across southern Ontario in over 20 watersheds and 15 school boards. For more information, visit http://www.ecospark.ca.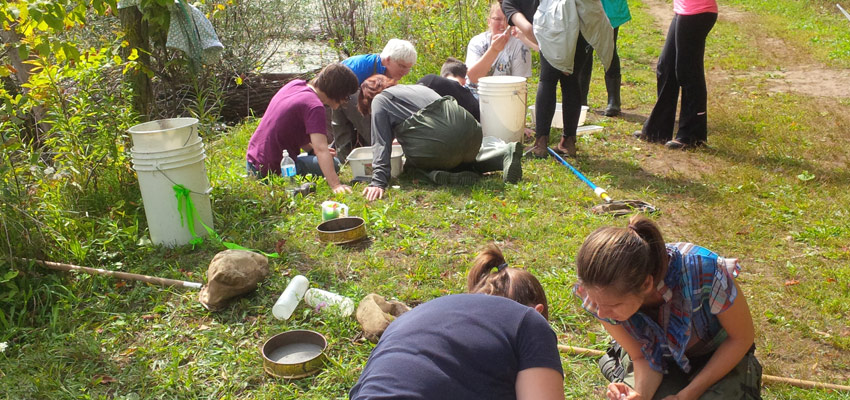 Position Description: We are looking for 3 dynamic, driven and well-organized individuals to join EcoSpark. The successful candidate will assist in the implementation of the Changing Currents program across the Greater Toronto Area. This citizen science program engages grade 6-12 students in stream monitoring in order to raise awareness about the reality and importance of watershed health. The Environmental Education Assistant will lead stream study sessions and assist with program administration, planning and promotion.
This is a full-time 3-month contract for the months of April to June 2019. There is a possibility of contract extension dependent on funding.
Position Responsibilities/Tasks:
Facilitate outdoor experiential workshops for teachers and students (grades 6-12) in water quality monitoring using chemical, physical and biological indicators
Assist with the planning and logistics of EcoSpark's Changing Currents program
Assist with Inventory and maintenance of Changing Currents monitoring equipment
Prepare benthos reference samples and kits
Assist with delivering teacher training for new Changing Currents teachers
Ensure that student-generated data from Changing Currents is accurately collected and validated
Provide support for teachers to undertake stewardship and restoration activities
Help develop and update environmental education resources as needed
Promote EcoSpark's educational programming to schools and at events
Other duties as assigned
Qualifications:
University degree or college diploma in science, environmental science or an environmentally-related discipline
Knowledge of the Ontario high school science curriculum
Knowledge in watershed monitoring and water issues in Ontario
Experience (paid or volunteer) in environmental programming or monitoring
Field work experience collecting and analyzing data
Able to grasp new concepts quickly and efficiently
Proven time management skills and strong attention to detail
Superior communication skills both written and verbal
Ability to work independently and in a team environment
Comfortable putting on hip waters and getting into streams!
Valid G2 or G driver's license
First Aid Certification
Preferred Qualifications:
Ontario Benthic Biomonitoring Network (OBBN) Certification is an asset
Experience working or volunteering with a not-for-profit
Access to a reliable vehicle
Working Conditions:
This position is based out of EcoSpark's Head Office in Toronto with extensive travel throughout Mississauga and the GTA during the Changing Currents field season
The Environmental Education Assistant is entitled to an Autoshare membership
The Environmental Education Assistant may from time to time be required to work more than 7 hours per day and occasionally on weekends with lieu hour compensation
Please refer to EcoSpark's Personnel Policy for other working conditions
Application Deadline: February 25th, 2019
Employment Type: Full-Time 3 month contract from April to June 2019.
Salary: $15/hour
Anticipated Start Date: April 1st, 2019
Start date is flexible depending on the availability of the successful candidates
Location: Toronto and Mississauga, ON with travel throughout the GTA/Greenbelt
Reports to: Environmental Education Coordinator
To apply, please email a resume and cover letter in a single PDF document to jobs@ecospark.ca with "Seasonal Environmental Education Assistant (Changing Currents)" in the subject line.
NO phone calls please
EcoSpark is an equal opportunity employer.
When applying, please indicate that you saw this posting at GoodWork.ca.