EDUCATION & TEACHING JOBS
Position: Coordinator, Education Peel
Organization: Toronto and Region Conservation Authority
Location: Vaughan, GTA, Ontario
About TRCA:
With more than 60 years of experience, Toronto and Region Conservation Authority (TRCA) is one of 36 Conservation Authorities in Ontario, created to safeguard and enhance the health and well-being of watershed communities through the protection and restoration of the natural environment and the ecological services the environment provides.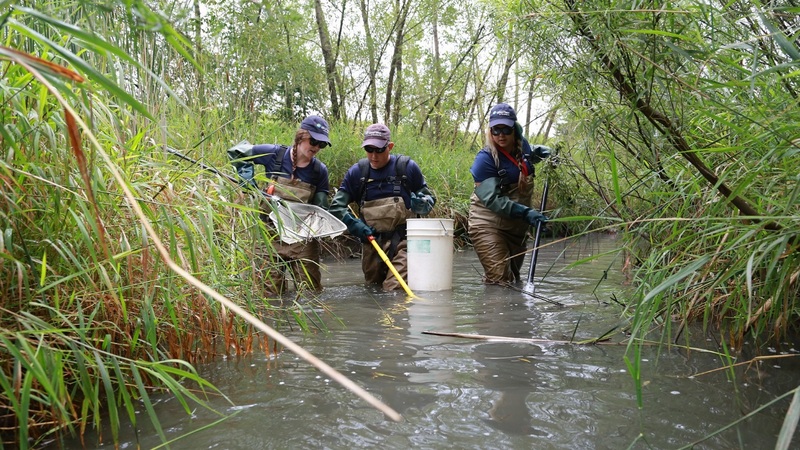 TRCA works to protect the integrity and health of the rivers and creeks in the jurisdiction, develop a system of green and natural spaces that sustains local ecosystems, and advance sustainable practices that improve people's lives within our growing region.
How you will contribute as part of the TRCA team:
Under the guidance of the Supervisor, Community Learning, the Coordinator, Education, Peel is responsible for the delivery of Watershed on Wheels, Native Plants and Conservation Youth Corps, education programs. Regular travel to schools across the Region of Peel is a requirement of this position. In addition, the Coordinator will support the Education and Training team with other education programs and initiatives. This position demands an individual with strong facilitation abilities. They are expected to provide superior customer service. Occupational Health and Safety is a major responsibility of this position.
Major Responsibilities:
Deliver Watershed on Wheels, Native Plants and Conservation Youth Corps education programs at schools across the Region of Peel and virtually.
Communicate with classroom teachers and TRCA staff to ensure the successful delivery of programs.
Under the guidance of the Supervisor, develop new programs and actively seek new delivery partnership models.
Assist in the tracking of monthly metrics and Centralized Planning and Reproting data
Support marketing development
Drive a corporate fleet vehicle and required program supplies to different schools.
Work with the other teaching staff to clean, repair and identify replacement of teaching equipment and supplies.
Utilize educational expertise to support community engagement events.
Complete monthly reconciliation of corporate Visa and regular Employee Expense Claims.
Other duties as assigned.
What will you need to succeed:
Post-secondary degree in Environmental Studies, Outdoor Recreation, History.
Geography or other related degree.
Bachelor of Education or Ontario College of Teachers certification.
2 years teaching experience within a school, camp, or outdoor education centre capacity.
First Aid and CPR certified.
Excellent communication skills in all modes (written, verbal, email, etc.).
Classroom management skills in diverse environments.
Teaching skills with diverse audiences.
Organizational and time management skills.
Valid G class driver's license and access to a vehicle on a daily basis.
What TRCA has to offer you:
As part of a progressive team you will have the opportunity to make a positive impact to preserving and protecting nature, while maintaining a balance between the natural environment and built environment. Working with experts within our field, you will join a team of colleagues that are committed to TRCA's core values of integrity, collaboration, accountability, respect, and excellence (icare).
You will be part of a diverse and inclusive organization that:
Makes a positive difference in the communities we serve.
Fosters high performance and collaborative teams.
Provides continuous learning and development opportunities.
Offers a comprehensive compensation and benefits program (including Defined Benefit Pension Plan – OMERS/OTPP).
Provides unique TRCA Perks.
Provides flexible work arrangements.
Offers potential for career growth and advancement.
Position Details:
Employment type: Full -Time Permanent
Hours of work: 35hrs/week
Work Location: Head Office – 101 Exchange Avenue, Vaughan, ON., Ontario
Division: Education and Training
Application:
To apply to this posting, please visit https://trca.ca/about/careers/. Please submit your resume and cover letter quoting job posting TRCA-220-21 prior to midnight on September 27, 2020.
Please indicate you saw this posting at GoodWork.
While the Toronto and Region Conservation Authority (TRCA) thanks all applicants for their interest, only those under consideration will be contacted for interviews. Please be advised that successful incumbent(s) may be required to undergo a vulnerable sector screening and/or driver's abstract check as a part of the final step in the hiring process.
TRCA is an equal opportunity employer. We embrace diversity and are committed to creating an inclusive workplace. Our goal is to attract, develop and retain highly talented employees from diverse backgrounds, allowing us to benefit from a wide variety of experiences and perspectives. In accordance with the Ontario Human Rights Code, Accessibility for Ontarians with Disabilities Act, 2005, and TRCA Policies, accommodation will be provided at any point throughout the hiring process, provided the candidate makes their accommodation needs known to the TRCA. We welcome applications from all qualified persons.
Personal information you provide through the TRCA recruitment, selection and onboarding process is collected under the authority of the Conservation Authorities Act, R.S.O. 1990, c. C.27. Collection of this personal information is necessary for the proper administration of this recruitment process for employment and volunteer positions with TRCA. Personal information is protected from disclosure pursuant to the Municipal Freedom of Information and Protection of Privacy Act. Any questions regarding this collection activity should be directed to the Supervisor of Records, 101 Exchange Avenue, Vaughan, Ontario, L4K 5R6