FRASER RIVER WATERSHED
Job Title: Regional Engagement Manager
Organization: Rivershed Society of BC
Location: Remote, Flexible, BC
Hours: Remote, Flexible, 35 hours/week.
Benefits: Extended health and dental (shared cost), generous sick days, vacation package, and flex days off.
Pay scale: $55,000 – $65,000 annual salary.
Application Deadline: Applications will be reviewed as they are received, position is open until the right candidate is found.
Start Date: As early as January 2, 2024.
The Rivershed Society of BC has a vision of the Fraser Watershed being a resilient watershed with salmon, people and economies flourishing in rivershed communities. As part of our mission to connect, protect and restore the Fraser's 34 riversheds – we are seeking a dynamic individual to fill the role of Regional Engagement Manager.
The Regional Engagement Manager plays a pivotal role in fostering collaboration and outreach across the Fraser Watershed. This position is responsible for enhancing regional connections and supporting regional efforts to protect and restore the Fraser Watershed. This includes playing a lead role in outreach for populating the Watershed CPR Dashboard in collaboration with other members of our team.
While occasional travel within the Fraser Watershed will be necessary, Rivershed is a remote team, and we're looking for someone comfortable with virtual collaboration. The ideal candidate will have an appropriate home office set up, be comfortable working with virtual supervision, and be available during regular working hours for seamless communication with key members of the Rivershed team.
If you're passionate about the protection and restoration of the Fraser and have the skills and energy to foster collaboration and engagement across the vast watershed, the role of Engagement Manager might be the perfect fit for you.
Key Responsibilities
Collaborations
Work with regional staff to lead the development of strategic collaborations across the Fraser Watershed to achieve Watershed CPR goals.
Conduct strategic outreach and gather information for the Watershed CPR Dashboard.
Plan and coordinate annual regional meetings to facilitate knowledge sharing and collaboration.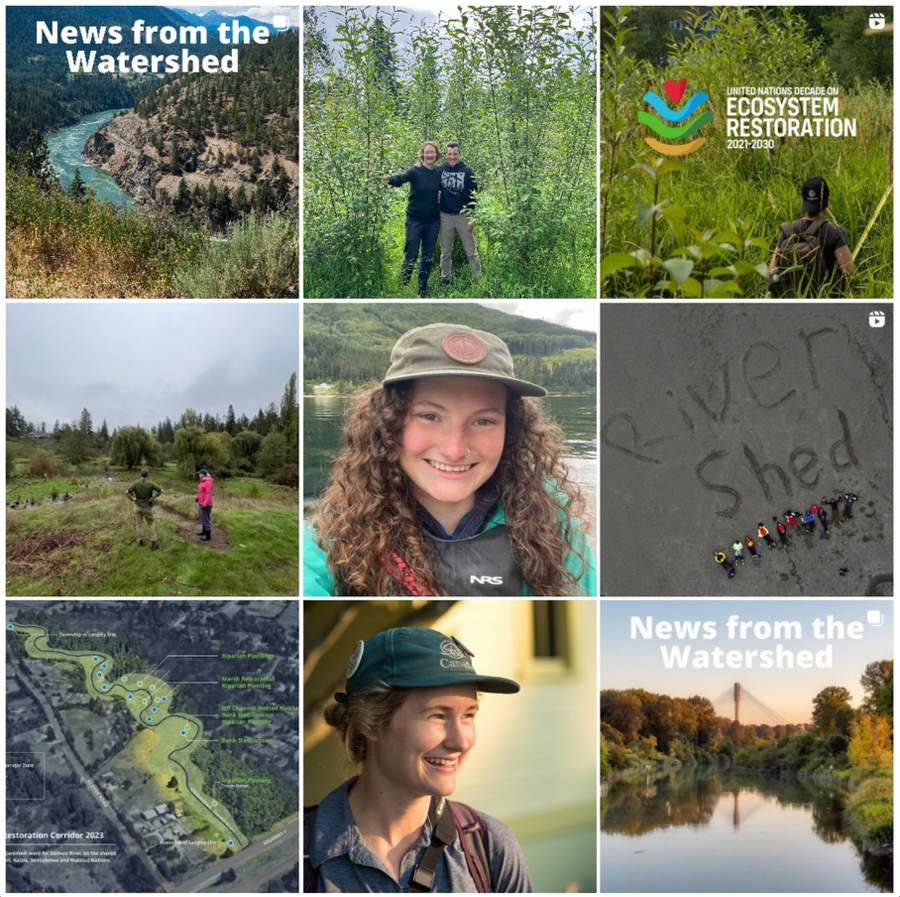 Regional Outreach
In collaboration with regional staff, write content, including a monthly newsletter, social media posts, website content and tabling and outreach materials.
Develop a follow-up strategy for potential relationships cultivated through these mediums.
Work with regional staff to create an annual plan to strengthen regional connections, including staff participation in local events.
Ensure engagement with other organizations through Rivershed's channels.
Integrate strategic use of contact database [Keela].
Ensure team stays up to date with local news, events, and regional Watershed CPR efforts.
Leadership
Collaborate with other members of the Rivershed leadership team on key projects and programs.
Ensure integration and alignment of outreach efforts across the organization to make progress toward organizational goals.
Collaborate on the development of materials, budgets, grant/report writing, and other duties as needed.
Supervise and Mentor
Lead and mentor staff members remotely across the Fraser Watershed.
Conduct team meetings, one-on-one meetings, and assist with work and organizational planning.
Collaborate with the Executive Director when hiring program staff as needed.
Networking & Professional Development
Actively participate in networking and professional development opportunities relevant to the role.
Decolonization
Participate in ongoing decolonization and reconciliation discussions and help the organization integrate the principles of the United Nations Declaration on the Rights of Indigenous Peoples (UNDRIP) into its work.
Qualifications
Bachelor's degree in a relevant field or equivalent experience
Strong project management skills with a focus on collaboration and partnership building.
Excellent written and verbal communication skills.
Leadership and team management experience, including remote supervision.
Strong attention to detail and excellent follow through.
Proficient use of database and computer programs and online tools such as Keela and Microsoft 365 (primarily Outlook, Teams, Word, Excel).
A commitment to decolonization principles and a willingness to participate in related discussions and initiatives.
Knowledge of the Fraser Watershed and those working on Watershed CPR (Connect. Protect. Restore).
Relevant knowledge of restoration and/or protection efforts in British Columbia.
Excellent time management skills and the ability to juggle multiple tasks and demands, working both independently and with a remote team across the Fraser Watershed.
How to apply:
Please send the following to Justine Nelson, justine@rivershed.com :
Cover letter
Resume
Two references
Please indicate you saw this posting at GoodWork.
** No phone calls, please.
Applications will be reviewed as they are received. Only those who are being asked for an interview will be contacted. The position will remain open until the right candidate is found.
While we are open to applicants from across BC, preference is given to those living within the Fraser Watershed.