JOB POSTING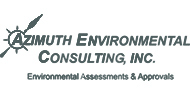 Position: Intermediate and Senior Terrestrial Ecologist
Organization: Azimuth Environmental Consulting Inc.
Location: Barrie, Ontario
Azimuth Environmental Consulting, Inc.
Our organization is a small staff-owned environmental consulting firm employing 25 people in ecological and hydrogeologic positions. Azimuth has offered consulting services to clients throughout Ontario since 1995. Many staff have been employed with the company over the majority of their professional career and many have worked for Azimuth for over a decade. Most senior managers began their career with Azimuth and have enjoyed the opportunity to grow with the organization over time.
Job Description:
Azimuth Environmental Consulting Inc. (Azimuth) is looking to fulfill two, full time job positions; Intermediate and Senior level Terrestrial Ecologist. Applicants must have a university degree in biology or related field, and a minimum 3 years of relevant experience. The successful candidate will complete field vegetation community classification, plant identification, wildlife habitat assessment and wildlife surveys (birds, amphibians, reptiles, mammals), report-writing and manage projects. Extensive practical experience in both field assessments and report preparation is mandatory and should be highlighted. Applicants must be able to work independently with a minimum of supervision. Good writing and computer skills on Microsoft software are a must. Experience dealing with public, regulatory agencies and clients are desired.
Key responsibilities will include:
Conducting terrestrial studies to support a variety of projects;
Assisting staff or managing projects requiring the assessment of wildlife habitat, including rare species and Species at Risk;
Effectively manage large quantities of field data;
Work with clients to understand their needs for consulting services, liaise with clients, prepare proposals, budgets, and project manage environmental impact studies for an array of clients in differing sectors (i.e. residential, municipal, provincial highways (MTO), mining or private landowners as examples);
Develop work plans to fulfill environmental consulting obligations with understanding of client deliverables, scheduling, contract budgets with demonstrated ability to project manage projects effectively;
Assisting or manage planning and development of management practices for restoration areas and environmental mitigation zones;
Preparing technical reports associated with the project, to meet regulatory agency approval requirements, or to satisfy compliance requirements in concert with environmental planners, project engineers and project managers. Reports may include Environmental Impact Studies, Natural Heritage Evaluations, Environmental Constraints, Annual Compliance Reports (e.g. ESA) to name a few;
Preparation of regulatory approval and permitting applications with all environmental regulatory agencies, liaise with agencies to facilitate the approval process, and regularly attend progress meetings and agency consultation meetings. Demonstrated ability to facilitate the approvals process on behalf of clients should be highlighted;
Ensuring technical quality of work including field methodology and review of client deliverables and meeting schedule and budget requirements; and,
Maintaining positive working relationships with colleagues, clients, government and regulatory agencies.
Desired Skills and Experience: :
Intermediate level – University degree in biology / ecology or related studies with a minimum of 3 years experience conducting and managing terrestrial studies;
Senior level – University degree in biology / ecology or related studies with a minimum of 5 years experience conducting and managing terrestrial studies, as well as experience managing staff;
Knowledge and demonstrated experience working in accordance with the following legislation: Ontario's Endangered Species Act, 2007 (ESA), federal Species at Risk Act (SARA), the Environmental Assessment Act (Ontario), Provincial Policy Statement (PPS), Fisheries Act, Migratory Birds Convention Act, 2017 Growth Plan for the Greater Golden Horseshoe and other relevant provincial and federal environmental legislation;
Certified Ecological Lands Classification, wetland evaluator, and Butternut Health Assessor;
Experience completing terrestrial studies for MTO in accordance with the MTO Environmental Reference for Highway Design is an asset;
Strong field inventory skills related to completion of surveys of vascular plants (trees, shrubs, forbs, and graminoids) and plant communities, wildlife (birds (avian surveys including nest surveys), amphibians, mammals), including rare species and Species at Risk;
Experience completing bat snag surveys and bat acoustic monitoring should be highlighted;
Proven ability to develop, manage and conduct field inventories and to efficiently manage large volumes of data and communicate findings clearly and efficiently in technical reports;
Experience completing environmental site inspection on construction sites is an asset;
Knowledgeable in reviewing development site plans, including servicing reports to understand development proposals, and determine environmental impacts that require consideration;
Recognized ability to work independently in both indoor (office), and outdoor (field) settings which may include moderate physical exertion (e.g. large amount of walking); and,
Recognized ability to work independently and succeed in a collaborative, multi-disciplinary team environment;
Strong oral and written communication, report writing, organization and interpersonal skills;
Valid Ontario Class "G" driver's license.
Qualified applicants may email cover letter with CV/resume to Lorna Salgado at:
lorna

azimuthenvironmental.com*
When applying, please indicate that you saw this posting at GoodWork.ca.
*Email: The e-mail address above has been masked to prevent spam. Please copy the address or type it manually, add the @ sign, remove "mask" and any spaces.