ECO-FRIENDLY LANDSCAPING
Hiring: Landscape Worker
Employer: Roses of Sharon
Location: Toronto, Ontario
As a Candidate: You will be strong physically, in your landscaping skills, work ethic and knowledge.  You will have enthusiasm for the work, and be passionate about plants.  Good, respectful interpersonal skills are also required.
Our Work:  We create garden beds, design plantings and maintain the properties. We are known as experts in Pruning of small trees and shrubs to maintain their health and beauty. Other tasks include Flagstone Setting, Planting of Trees/Shrubs/Perennials/Decorative Urns.   
Work Hours: At present, we need part time help to complete the many maintenance tasks on the properties.  This could be 1, 2 or up to 3 days a week, depending upon the workload and weather.  We work until the end of November, early December – weather permitting.
Pay: Starting hourly fee is $20.00.  This will be raised commensurate with skill level, and contribution to the team.
Experience/Education: Relevant Landscape Training, related work experience and Plant Knowledge required. Experience with pruning tools, hedge-trimmers, garden edgers also important. We do NOT use any gas-powered tools.
Other Assets: Driving experience and own vehicle very helpful. Adaptability to changing situations (weather, unexpected challenges), good artistic sense and communication skills. Sense of humour!  Overall, we try to maintain a respectful, collaborative team approach.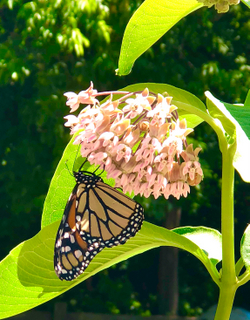 Philosophical Compatibility: Every team member is aware of how valuable the plants and trees are to preserve our climate, the animals and the human spirit.  We garden in a sustainable, environmentally conscious way. Promotion of Native and Pollinator species is a priority. We have been rewarded with successions of Monarch butterflies on our properties! Other pollinators abound, especially enormous Bumblebees!
Health and Safety: These are also prioritized, in terms of safe practices and proper safety gear. As we work on properties where often fragile seniors reside, Full Covid Vaccination (3 doses)  is required, and  Rapid Testing when onsite. Masks not required outside UNLESS you are in close proximity to a resident or other staff. Masks always required inside.
To Apply: Please forward Resume and Cover Letter to: Sharon, rosesharon18@yahoo.ca
Please indicate you saw this posting at GoodWork.
Photo credit: Roses of Sharon