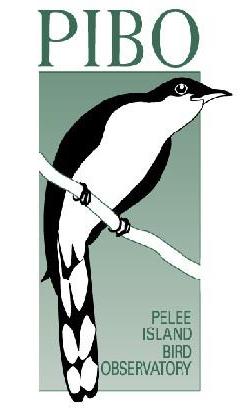 FIELD BIOLOGY JOBS
Position: Assistant Field Biologist
Organization: Pelee Island Bird Observatory
Location: Pelee Island, Ontario (shared housing provided)
Duration: 5 April through 16 July 2021 – 3 months (start and end date may be flexible)
Job type: Seasonal
Application deadline: March 15 2021
Job description:
Participants will assist the Pelee Island Bird Observatory's Field Supervisor with all research, fieldwork, data management, volunteer supervision, field station logistics and upkeep of staff cottage on Pelee Island from 12th April to 16th July 2021.
The Assistant Field Biologist reports to the Field Supervisor.
This is a seasonal, full time, 7 days a week position from April 12- July 16.
April 5-11 will be for settling into the cottage, meeting with staff and allowing for a week of isolation.
A negative COVID-19 test will be required no more than 72 hours prior to arriving on Pelee Island.
The Assistant Field Biologist will:
Assist the Field Supervisor and PIBO interns/volunteers with all research and fieldwork operations from April to July. The Assistant Field Biologist's workload will involve up to 50 hours of fieldwork/week, as well as paperwork, data entry, and other duties associated with PIBO's migration monitoring program.
Primary duties include but are not limited to: daily constant-effort migration-monitoring including daily 90-minute census (only late May and early June) and the 6-hour passerine bird banding in April, May, and early June (70 days); summer breeding bird studies (20 days); species-at-risk monitoring (10 days); marsh bird and amphibian surveys (6 days), and additional spring and summer research activities.
Other responsibilities include the entry and proofing of research data collected during the season including PIBO's Daily Totals (DTs), bird banding records, species-a-risk data, marsh bird surveys, amphibian monitoring, etc.
Writing bi-weekly migration summaries if census duties are required.
Assisting with the upkeep of the PIBO staff cottage (shopping, cooking, cleaning, etc.).
Assist the Field Supervisor with online social media updates during the spring migration season, and contribute articles to the newsletter.
Reside on Pelee Island from April to July and live rent-free at the PIBO staff cottage during the field season.
Pelee Island is a premier location to study and observe hundreds of migratory species and dozens of breeding birds with limited ranges in Canada.
Qualifications:
An experienced field birder able to identify 75-95% of the majority of species found in the Great lakes region by sight and sound. Previous bird banding experience (ideally more than 5000 birds banded) and familiarity with CMMN migration monitoring, the Great Lakes Marsh Monitoring Program and Breeding Bird Survey (BBS) are a plus, but not essential. They must be able to spend long periods standing and walking over uneven terrain, comfortable interacting with the public, easy to live with and willing to work hard. PIBO's staff and volunteers must be prepared to sometimes work ten-hour days for up to 70 days in a row without a day off, in both cold, as well as hot, humid, buggy conditions. Candidates must be Canadian citizens or permanent residents and must be legally entitled to work in Ontario. A driver's license and a clean driving record are a plus.
Shared housing provided but food and transportation to and from Pelee Island will be the responsibility of the candidate. Conditions around the banding station are often flooded and may be muddy. Biting insects, poison ivy, cockroaches, spiders and non-venomous snakes are common. The island can be cold in the early spring and PIBO's staff house is not winterized. Internet and cellphone reception is limited at the banding station and at the staff house.
Compensation:
Total compensation is up to $3000/month (CDN), minus deductions, depending on experience.
To apply:
Please send your resume, a cover letter describing your experience and interest in the position, and contact information for three references, to Suzanne Friemann at: suzanne.friemann@pibo.ca
Please indicate you saw this posting at GoodWork.
Number of openings: 1