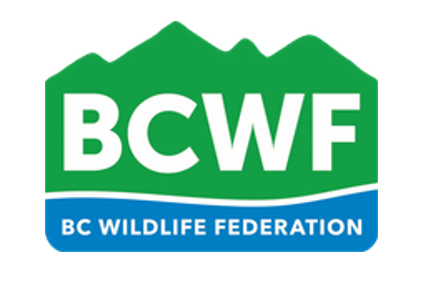 BC JOBS, CONSERVATION & STEWARSHIP
Hiring: Conservation Stewardship Communications Coordinator
Organization: B.C. Wildlife Federation
Location: Hybrid: primarily work-from-home with some travel required during the field season. Must reside in BC.
About the B.C. Wildlife Federation
The B.C. Wildlife Federation (BCWF) is British Columbia's leading conservation organization. As a province-wide, member-driven charitable organization, with over 43,000 members and more than 100 member clubs, our organization represents the interests of all British Columbians who aim to protect, enhance, and promote the wise use of the environment for the benefit of present and future generations.
Job Overview – Conservation Stewardship Communications Coordinator
Are you passionate about conserving B.C.'s fish, wildlife, and habitat? Do you have a strong toolbox of digital marketing, communications, and design skills? The BCWF's Conservation Stewardship (CS) department is hiring a Communications Coordinator to join our dynamic and creative team.
The Conservation Stewardship Communications Coordinator creates, reviews, and implements physical and digital communication material to support the initiatives of the BCWF's Conservation Stewardship department. Initiatives include, but are not limited to, the Wetlands Workforce, Wetlands Education Program, Youth Program, and Fish Habitat Restoration & Education Program. The position will work closely with the Marketing & Communications department to effectively coordinate the flow of information for the BCWF.
To support a workforce that reflects the diversity of our community, women, Indigenous Peoples, racialized individuals, persons of diverse sexual orientation, gender identity or expression (2SLGBTQAI+), persons with disabilities, and others who may contribute to the diversity of our workforce are encouraged to express their interest and apply.
Qualified candidates may submit their resume, cover letter, and formal or informal writing sample (sample 1 page max.) as a single PDF document via email quoting "CSCommunicationsCoordinator_FirstName_LastName" to: jobs@bcwf.bc.ca
Please indicate you saw this posting at GoodWork.
Applicants must apply by March 31st at 11:59 p.m. (PST).
We thank all applicants for their interest and advise that only those selected for an interview will be contacted.
For more information, you may contact: Rachel Teichman, Fish Habitat Restoration and Education Assistant, B.C. Wildlife Federation, Rachel.Teichman@bcwf.bc.ca
---
Core Responsibilities
External Communications
Assist in copy writing, design, and scheduling of social media elements for Conservation Stewardship programs and projects.
Create email campaigns regarding programs and events.
Compose copy and design materials for bi-weekly and monthly newsletters for BCWF programs.
Curate social media takeovers on Instagram and Facebook stories.
Email stakeholder progress reports regarding BCWF programs.
Meet with members, grantors, and other stakeholders.
Represent BCWF at tradeshows and outreach events.
Internal Communications
Serve as a liaison between Conservation Stewardship teams and BCWF Marketing & Communications department
Assist in the preparation of quarterly and annual reports.
Prepare monthly emails with upcoming Conservation Stewardship activities and opportunities for internal staff.
Content Creation
Conduct interviews with members, stakeholders, donors, and volunteers on their involvement, idea, or campaign for written materials like blog posts, press releases, etc.
Design posters and infographics to highlight program successes.
Develop information packages for members, grantors, sponsors, and other stakeholders.
Design and develop informational guides, pamphlets, and one-pagers for programs and initiatives.
Design social media graphics and social media paid advertisements.
Travel throughout the province to gather content from projects such as interviews, photographs, and videos.
Storyboard, film, and edit program videos alongside Technical Assistant.
Prepare external reports of programs for distribution to members, grantors, stakeholders, and donors.
Marketing
Advertise BCWF programs and events through Meta Business Suite and Google Ads.
Create goals and set measurable objectives to increase public awareness of BCWF programs.
Monitor the search engine optimization (SEOs) of the website and make changes as needed.
Manage digital ad campaigns and events.
Support market research for the BCWF.
Administration
Analyze measured outcomes from surveys and record results.
Create registration pages for BCWF programs using GiftTool and other event programs.
Develop, conduct, and report on program evaluation and participant surveys.
Ensure the BCWF programs' webpages and content are current and accurate.
Gather analytics for different marketing and development campaigns and examine key performance indicators.
Track program revenue and expenses
Other duties related to BCWF programs as required which includes, but is not limited to, data collection and entry, attending and supporting Conservation Stewardship events, providing technical support to teams, etc.
Competencies and Skills
Requirements:
Must be legally eligible to work in Canada and B.C. with a valid Social Insurance Number at the start of employment.
Must have reliable internet connection for work from home conditions.
Ability to travel extensively during field season (spring and summer)
Class 5 Driver's Licence
Education:
Must be pursuing, or have obtained, a diploma or degree in a relevant field (e.g., Communications, Business Administration, Forestry, Social Sciences, etc.)
A combination of work experience and education will be considered for this role.
Knowledge, Skills and Abilities:
Strong personal alignment with BCWF's mission, goals, and values (applicants are strongly encouraged to review our website for further details on these topics)
Must have experience in hands-on design and implementation of communication concepts and plans.
Must have a design-oriented mind and strong knowledge of content creation.
Must have excellent knowledge of website management.
Must have excellent written and verbal communication skills, including a professional demeanor and a positive attitude
Must be extremely well-organized, analytical, flexible and detail-oriented, with the ability to manage multiple priorities and meet tight deadlines
Must be a self-starter, capable of working well independently as well as within a dynamic, multi-faceted team environment
Must be able to keep strict confidentiality and sign an oath of confidentiality
Where necessary, must be willing to work evenings, weekends, and extended hours to accommodate activities and events of the Federation.
Must be comfortable working outdoors in natural spaces, occasionally in adverse weather conditions for program delivery (e.g., camping, hiking, etc.)
Qualifications:
Proficiency with Microsoft Office programs (e.g. Word, PowerPoint, Excel, OneDrive, etc.)
Proficiency with social media scheduling tools (e.g. Sprout Social, Hootsuite, Buffer, etc.)
Proficiency in Wordpress web design and editing.
Expertise in social media platforms (e.g. Facebook, Instagram, TikTok, Twitter, LinkedIn)
Expertise in content creation platforms (e.g. Adobe Creative Suite, Canva, etc.)
Work Experience:
2+ years in marketing and communications
1+ year working with non-profit organizations
Additional Assets:
Experience in event photography
Experience managing and creating TikTok and Instagram Reels
Basic drone certification
Position Terms & Compensation
Position Terms:
This full-time (40 hours/week), permanent position is based at the B.C. Wildlife Federation office in Surrey, B.C. (101-9706 188th Street). At this time, most staff are working in a hybrid format, with both remote work and opportunities to work in the office. During the field season (spring & summer), travel is required, and an averaging agreement is utilized.
Compensation:
Wage: $23-28/hour, to be reviewed based on experience