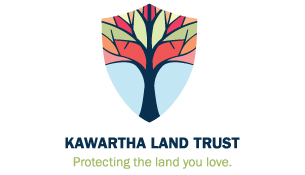 PETERBOROUGH, ONTARIO
Position: Communications Coordinator
Organization: Kawartha Land Trust
Location: Peterborough, Ontario
Reports to: Development Manager
Compensation: $41,616 to $60,000 based on experience
Type: Permanent
Position Overview
The Kawartha Land Trust (KLT) is a dynamic land conservation charity with an impressive track record of growth. Our mission is caring for lands entrusted to us and helping others protect the land they love in the Kawarthas. We do this by accepting donations of ecologically-significant lands and/or interest in lands and by engaging the community in support of this work through gifts of time and money to ensure those lands are cared for, in perpetuity.
Our successes have been achieved through the work of our dedicated and growing volunteers and donors. Continuing to build community 'buy in' to our conservation vision is important to grow our impact. Volunteer events, guided walks, workshops and one-on-one visits with landowners are ways that we will continue to ensure that the community understands and is engaged in the process of permanently protecting our landscape.
For more information on the Kawartha Land Trust and to consider further if you may be a fit for this opportunity, see KLT's website, online/media or social media presence.
Primary Responsibilities
Reporting to the Kawartha Land Trust Development Manager, the Communications Coordinator will develop and implement communication and outreach strategies to achieve organizational and project goals. This will include working in a team environment to provide support for external communications.
The position will:
Develop, implement and coordinate an annual communications and marketing plan
Write, edit, design and produce content for a broad variety of materials including but not limited to: monthly e-newsletters, website, online and print media, ads, posters, presentations, Annual Report, events, press releases, signage and other resources.
Ensure all messaging and communications are consistent, follow guidelines and branding, and support fundraising.
Manage and update social media content
Oversee website upgrade and provide ongoing maintenance and updates.
Develop project specific resources such as educational resource for land donations, videos, QR codes, etc.
Coordinate the development of appropriate tools to monitor and measure the effectiveness of communication strategies.
Support outreach and engagement events and communications related to events.)
Key contact for external communication needs (designers, printers, web developers, online and print media, grantees, cartographers, sponsors, etc.)
Assist with building partnerships and relationships to share KLT's mission, properties, and projects with new audiences (individuals and other organizations)
Represent KLT at internal and external events
Actively participate on staff committees as necessary and appropriate
If needed, coordinate volunteers assisting with specific communication tasks.
Assist with development activities and donor stewardship
Assist with managing information in KLT's CRM and photos databases
Administrative support with donation entry, processing, tax receipting, reconciliation and monthly reporting within CRM database
Other duties as directed and required
Minimum Qualifications
Bachelor's degree in a relevant field such as communications or related discipline.
At least three years of relevant experience in communications including content creation.

Experience across print, digital, social, web, video and other media, and knowledge of the production requirements with each platform.
Experience in writing for different audiences.
Strong writing, editing and proofreading skills

Proficient in online communication tools (including Hootsuite, Facebook, Twitter, Instagram, LinkedIn, Constant Contact, Zoom, Google Analytics, and Monkey Survey) and computer skills including databases and Microsoft Office tools (Word, Excel, Publisher, PowerPoint).
Experience in maintaining websites.
Excellent verbal, written, and visual communication skills, including public speaking
Strong team player and ability to work independently within the team
Strong interpersonal and organizational skills; with attention to detail
Ability to problem solve and take the lead.
Ability to work flexible hours and accommodate occasional unplanned requests
A creative design sense
Must have a valid G2 license and access to a personal vehicle (mileage will be compensated)
Must be prepared to work some evening and weekends
Assets:
Experience in environment and conservation sector.
Photography and video experience.
Prior experience in meeting and event organization (in-person and virtual).
Proficiency in Adobe Creative Suites.
Experience with CRMS (preferably Salesforce)
How to Apply
Your application should include a resume and a cover letter as one document, which specifically addresses how your skills and qualifications relate to the job tasks and responsibilities. Please include in your cover letter a summary of why you think the work of Kawartha Land Trust is important.
Send application as a PDF or Word document with the following file name format: Last Name_First Name_KLT Communications Coordinator.
Email your cover letter and resume in one document to Kawartha Land Trust at info@kawarthalandtrust.org by 12:00 NOON on January 31, 2022 with the subject line "Communications Coordinator".
Please indicate you saw this posting at GoodWork.
KLT values diversity and inclusion and encourages applications from all qualified applicants. Accommodations for applicants with disabilities are available upon request for all aspects of the recruitment process. Please note however that at this time, KLT offices are not wheelchair accessible.
Thank you for your interest in the Kawartha Land Trust. Although we appreciate all applicants taking the time to express their interest in joining the Kawartha Land Trust team, only candidates selected for an interview will be contacted.