CLEAN ENERGY TRANSITION
Hiring: Senior Analyst, Buildings Program
Organization: Pembina Institute
Location: Vancouver, Victoria, Calgary, Edmonton, Toronto or Ottawa / Hybrid
Why Pembina?
It's all about our purpose, people, and perks.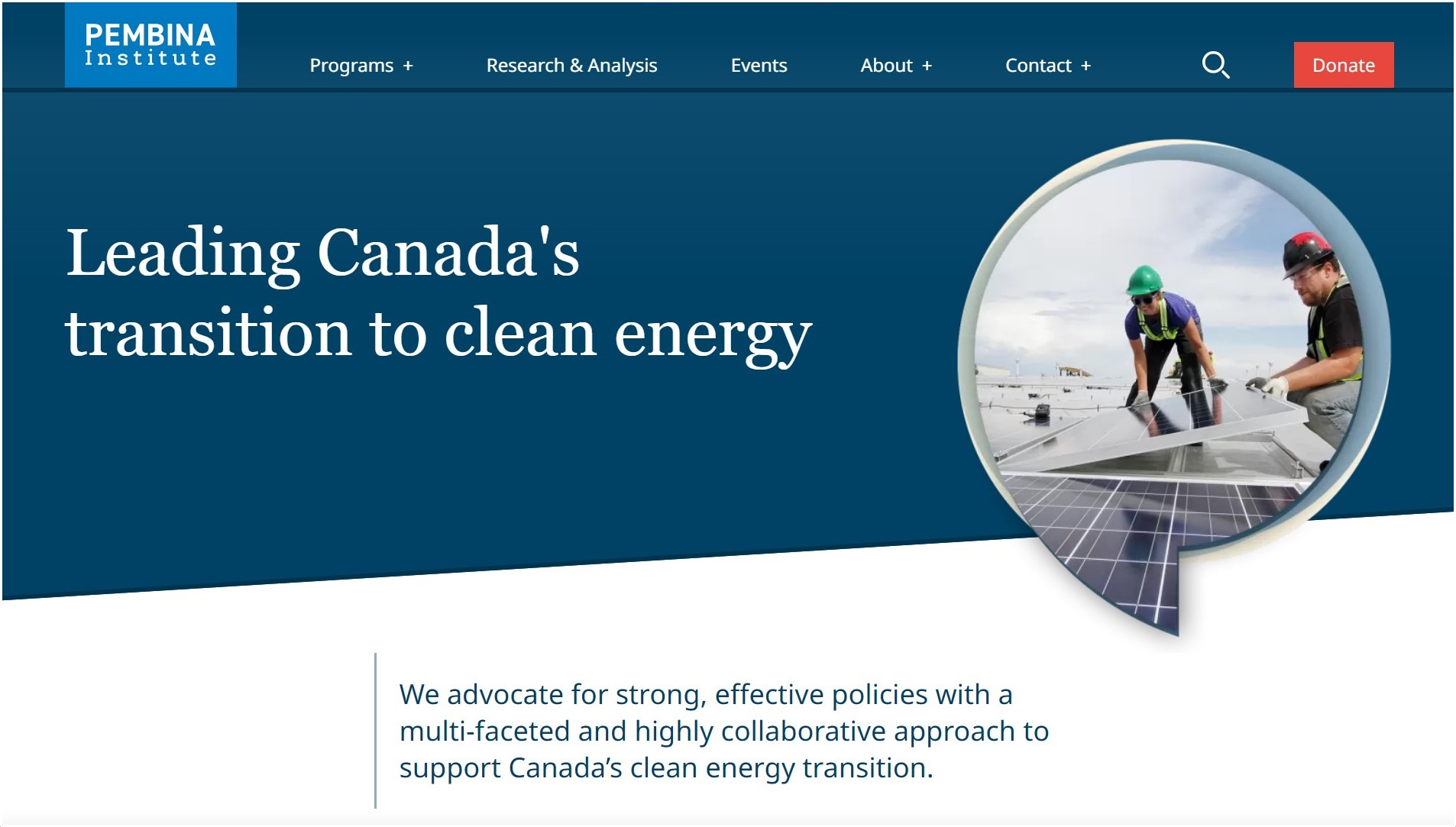 Purpose. This is an opportunity to meaningfully and tangibly effect change on one of the most important issues of a generation: Canada's clean energy transition. Our 40-year track record demonstrates our commitment to responsible development, and our "tough, but fair" approach gives us credibility with decision-makers whose actions today are setting the future direction for communities and the economy.
People. Our 50+ person team, distributed across the country, is passionate and dedicated, but we don't sweat the small stuff. We help and support each other, gathering annually for our Assembly in the Canadian Rockies, as we pursue solutions to Canada's greatest energy challenges.
Perks. You'll enjoy a competitive salary, four weeks of vacation and time off between Christmas and New Year's, RRSP matching, flex work and an enhanced benefits plan. To be your best personally and professionally, we'll have your back in supporting work-life balance and professional development.
The Opportunity
Pembina Institute is a non-partisan think tank that advocates for strong, effective policies to support Canada's clean energy transition. Through research, consulting and convening, we employ highly collaborative approaches to reduce the environmental impacts of energy production and use. We're passionate about sustainability and dedicated to enabling positive social change and equity. We're energetic, dynamic, collaborative, nimble and sharp as tacks.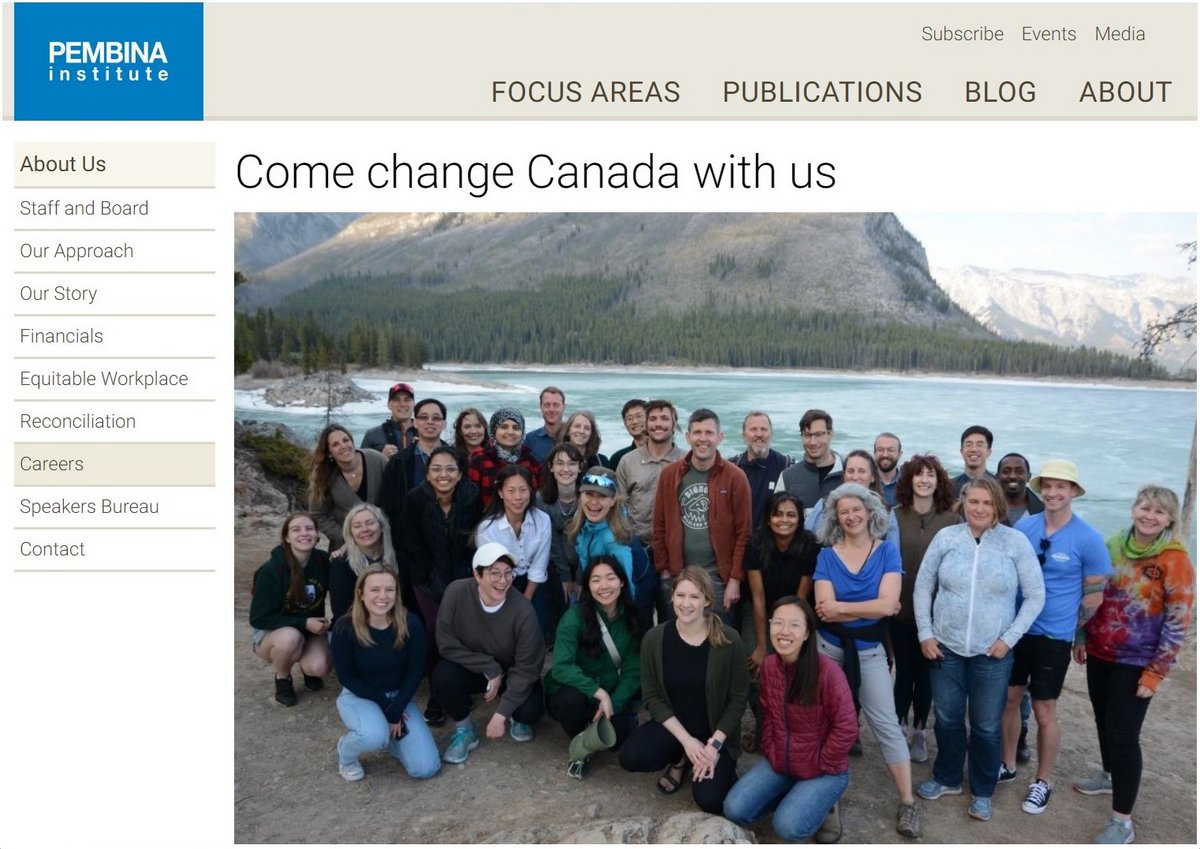 This is a pivotal moment and it's all hands on deck here. We're searching for a Senior Analyst, Buildings Program to pursue strategies to accelerate low-carbon buildings through good policy development, regulatory reform and to support supply chain growth.
The Position
The Pembina Institute is seeking a highly motivated Senior Analyst to join its Buildings Program, to pursue strategies to accelerate low-carbon buildings through good policy development and regulatory reform, and to support supply chain growth. Reporting to the Buildings Program Director, the successful candidate will also collaborate with staff from other Pembina Institute teams, such as the Electricity, Oil and Gas, Renewables in Remote Communities and Equitable Transition programs. Candidates with technical expertise in research and project management are especially encouraged to apply.
The Candidate Profile
As an ideal sharp and forward-thinking candidate, you are a highly motivated Senior Analyst wanting to pursue strategies to accelerate low-carbon buildings. You're positive and consultative, with a record of taking initiative, thinking out of the box and solving problems. You're thoughtful, creative, dynamic and easy to work with. In short, you're a lot like us.
Key Responsibilities
Cultivate and maintain constructive relationships with government, industry leaders, technology providers, thought leaders, other ENGOS and Indigenous community members.
Manage projects from inception to delivery.
Conduct thorough technical, quantitative and qualitative analyses, including analysis and assessment of building technologies and techniques and policy research.
Conduct qualitative research through literature reviews, expert interviews and case studies.
Collaboratively create high-quality project deliverables, including communication materials, reports, presentations, briefing notes and funding proposals
Represent the Pembina Institute's views at meetings, regulatory hearings, presentations, and over time as a media spokesperson
Key Qualifications
Candidates must clearly reflect (with examples) the following skills and experience in their application:
Knowledge of building decarbonization challenges and opportunities with energy, environmental and climate policy, locally, provincially and federally
Minimum of an undergraduate degree in engineering, sciences, economics, law, public policy or related field
A minimum of four years of work experience in climate solutions related to construction or building material, or energy and environmental issues in industry, academia, government or the non-governmental sector. Experience in policy and regulatory reform for environmental protection is especially valuable.
Strong ability to manage projects that include technical and research components.
Demonstrated ability to conduct quantitative and qualitative technical research in building components, practices and standards and environmental policy.
High level of proficiency in MS Excel and experience developing Excel-based models
Good communication skills (written and oral) in a variety of formats such as formal reports, blogs and social media posts, including public speaking with the ability to convey complex matters in plain language.
Self-motivated and results-oriented, with the ability to take initiative and work independently with minimal supervision.
Working knowledge of Microsoft Office programs in a Teams environment
Other Valuable Qualifications
Experience at managing projects at multi-stakeholder tables, collaborating within a group that reflects a range of interests and perspectives.
Direct experience in developing or implementing local, provincial or federal environmental policy and regulation.
Demonstrated commitment to sustainability and social change through educational, professional and volunteer experiences.
Candidates may also wish to provide examples of additional qualifications and describe how they would apply these in a role at the Pembina Institute.
Compensation
Salary is commensurate with experience. The hiring salary range for the position is $68,289 to $76,169 annually, with a position salary maximum of $84,048, increasing with acquired skills and experience in the role.
To Apply
To apply, click here. Please indicate you saw this posting at GoodWork.
Pembina Institute is an equal employment opportunity employer, and we welcome applications from Indigenous People and other racialized people, persons with disabilities and women in occupations or positions where they are under-represented. If you are a member of one of these equity groups, you are encouraged to self-identify on your application form, cover letter or resume.
We thank all applicants for their interest; only those selected for an interview will be contacted.