NATURAL CLIMATE SOLUTIONS 
Position: Program Manager, Climate Innovation
Organization: Ecotrust Canada
Location: Remote. The position may be located anywhere in Canada, with the understanding that some meetings will be coordinated according to Pacific Time as the Climate Innovation team is largely based in BC. The position will require travel in Canada.
Start Date: May 2022
Position Status: Full Time (37.5 hours/week), Salaried. Generous benefits package after three months.
Salary Range: $65,000-$75,000 annually, depending on experience.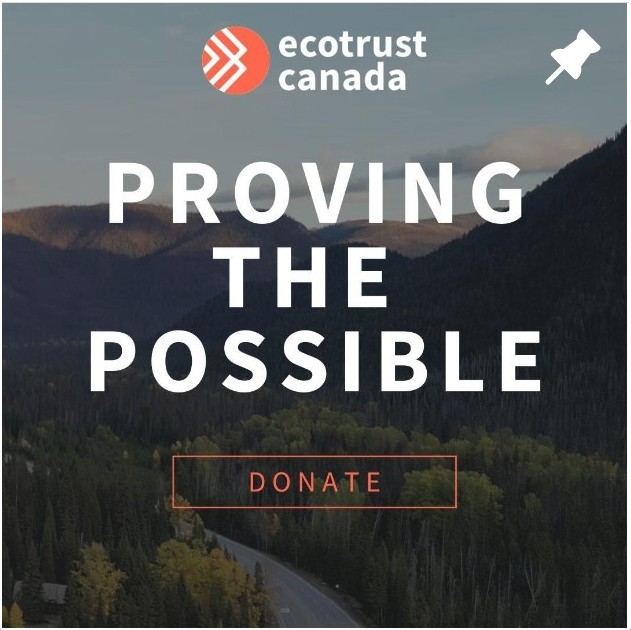 About Ecotrust Canada
Ecotrust Canada is an enterprising non-profit that works with rural, remote, and Indigenous communities toward building an economy that provides for a healthy and resilient natural environment; sustainable and abundant energy, food, and housing; prosperous and meaningful livelihoods; and vibrant cultures and inclusive societies. We call this approach building an economy that provides for life. Our on-the-ground work and systems approach is entrepreneurial, partnership-based, and relentlessly practical. Learn more at ecotrust.ca
About our Climate Innovation Initiative
Ecotrust Canada's Climate Innovation Initiative is dedicated to demonstrating how forest carbon management is a powerful tool for mitigating climate change, while at the same time, protecting ecosystems and providing for community prosperity. A core pillar of our work involves engaging with rural, remote, and Indigenous communities and helping explore and develop forest carbon financing opportunities, including carbon offset projects. Our principles are well defined – projects must create clear, lasting, climate benefits; they must conserve or regenerate natural systems; and they must be supported and led by the communities they affect, and in turn, project benefits must flow back to those communities. As we look across Canada's incredible wealth of carbon rich landscapes and the communities that call these places home, we see the unparalleled potential to make demonstrable progress in the battle against climate change.
Position Summary
The Program Manager will drive successful execution of carbon project development with our rural, remote and Indigenous partner communities, and help lead climate policy development with a focus on Natural Climate Solutions. The Program Manager will report directly to Ecotrust Canada's Director of Climate Innovation.
Program Management Responsibilities:
Plan and implement program needs, project scopes, goals, and deliverables.
Manage project timelines and track deliverables to achieve project goals.
Monitor and report to foundation and government funders on project progress.
Lead grant writing and reporting activities.
Carbon Project Development:
Work with Climate Innovation team to develop Natural Climate Solutions and carbon offset projects across Canada, including BC, the NWT, and Ontario.
Utilize and translate technical climate impact and carbon modeling documentation into key project documents to advance GHG emissions reductions and carbon offset projects.
Lead research and report-writing activities including data collection, writing, and analysis as needed to successfully execute climate projects.
Policy Development Responsibilities
Lead development of policy and decision support tools for communities and governments related to forest carbon offset project evaluation and nature smart climate solutions.
Support outreach to policymakers and decision-makers through written / oral policy advice and coordination of meetings with key decision-makers.
Lead the development of research & policy reports.
Skills and Qualifications
Candidates must clearly reflect, with examples, the following skills and experience in their application.
Bachelor's Degree in Public Policy, Environmental Science, Forestry, Biology, Economics, Indigenous Studies, Business, or other related fields, with preference for a Master's Degree.
At least three years of experience demonstrating excellent program management skills and attention to detail.
Self-motivated and results-oriented, with the ability to take initiative and work independently with minimum supervision.
Demonstrated ability to design, manage, and develop environmental projects.
Demonstrated ability to identify clear and relevant policy goals in a new topic area, and to design and execute effective programs to deliver on the most impactful policy options.
Strong interpersonal skills.
Understanding of the role of Provincial, Federal, and international climate regulations and carbon pricing policy.
Excellent oral and written communication and ability to distill technical matters in plain language.
Understanding of Canada's colonial history, its ongoing impacts on Indigenous communities, and commitment to Decolonization, Reconciliation and justice-seeking endeavours.
Demonstrated commitment to sustainability and social change through educational, professional, and volunteer experiences.
To Apply
Please create one PDF combining cover letter and resume, and title it in the following format: "Last Name, First Name_ProgramManager." Submit applications to our website via the form: Position: Program Manager, Climate Innovation - Ecotrust Canada.
Please indicate you saw this posting at GoodWork.
Applications due by 9pm PST, May 16, 2022 but will be reviewed as they are received.