COMMUNITY ORGANIZING
Position: Farmer & Farm Worker Organizer
Organization: National Farmers Union
Location: Position can work remotely; if in the Saskatoon area, in-person work is encouraged.
Eligibility: age 30 & under (see below)
Do you love people, especially farmers and farm workers, and community organizing? Do you want to build connections to take on corporate concentration and return the power to the people? If so, this job is for you!
The National Farmers Union is a farmer-led, democratically-directed farm organization representing Canadian farmers and farm workers, and advocating on issues of importance to us. NFU members believe that the problems facing farmers are common problems, and that farmers producing diverse products must work together to advance effective solutions. The NFU works toward economic, social, and environmental policies that promote economically- and environmentally-sustainable farms and strong farming communities.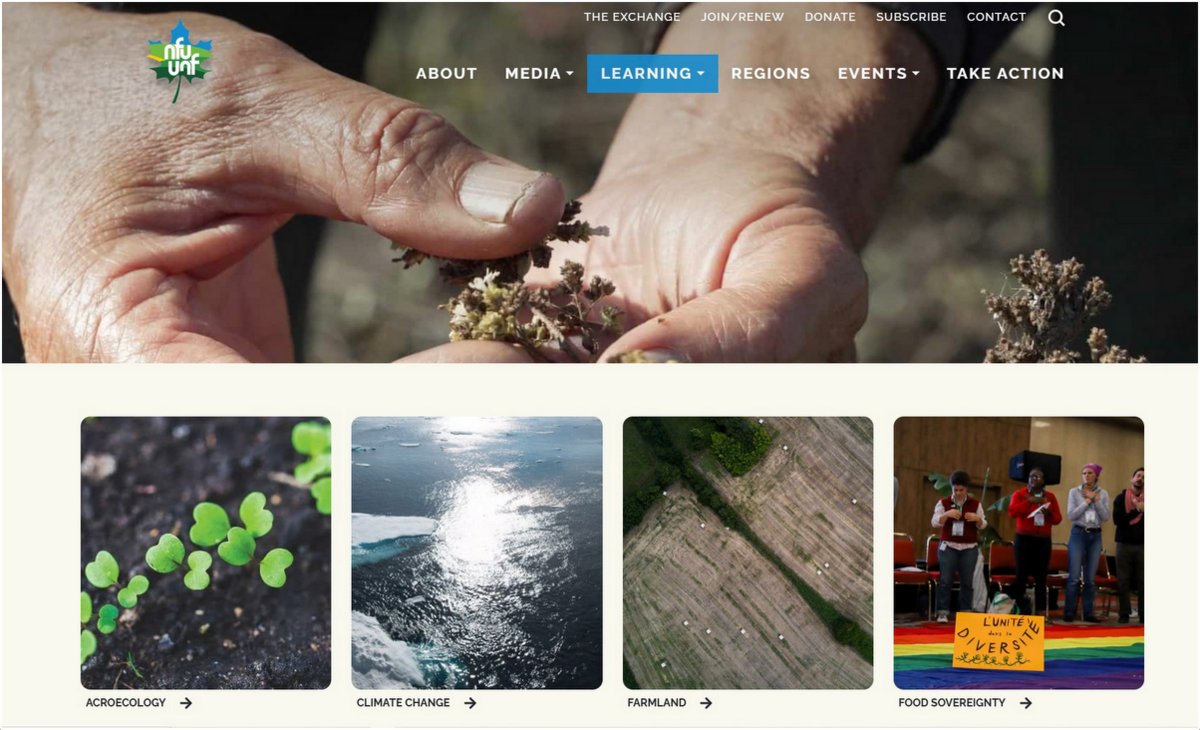 The National Farmers Union Farmer and Farm Worker Organizer is a contract position made possible by ECO Canada funding. Work is full-time from January through mid-April, then part time throughout the farming season. The Organizer requires communications and organizational abilities, coordination of multiple simultaneous projects, interest in learning digital skills and organizing, and a keen desire to advance agroecology and climate solutions in agriculture. Some knowledge of community organizing is preferred. Fluency in written and spoken French is a strong asset.
Candidates for this position must be eligible for ECO Canada postings, which includes:
participants between the age of 15-30.
a post-secondary graduate or high school graduate (territories only).
individuals who hold Canadian citizenship, Canadian permanent residency status, or Canadian refugee status.
Please check your eligibility here: https://eco.ca/ds4y-page/
Applications are to include a cover letter and resume (see below) sent to hiring@nfu.ca by end-of-day Friday Dec. 1, 2023
The Role & Responsibilities
The Organizer's responsibilities include the following:
Working with Regional Coordinators across Canada and the Membership Development Committee of the NFU:

Implement regional plans for organizing on a local/regional level and within caucuses
Host events and opportunities for farmers and farm workers to organize
Based on the success of early initiatives, plan and support events and other initiatives throughout the year
Inform members and potential members of opportunities to join caucuses, committees and working groups.

Working with the Membership Development Committee, manage the membership activities of the NFU.
Working with the Farm Worker Organizer, ensure farm workers are directed to joining the Farm Worker Working Group for solidarity
Provide supports for all digital communications for membership including scheduling, convening and minuting meetings, reviewing and summarizing material, and other administrative tasks
Coordinate the CRM data collection of all membership staff and the NFU Days outreach
Develop and curate membership-related social media content for the NFU's Instagram, Twitter, Facebook and YouTube
As needed, provide support to the Communications Manager to upload and edit membership content on NFU website and NFU YouTube channel
Learn organizing skills through training and put skills to use in the role
Other duties as assigned
Reporting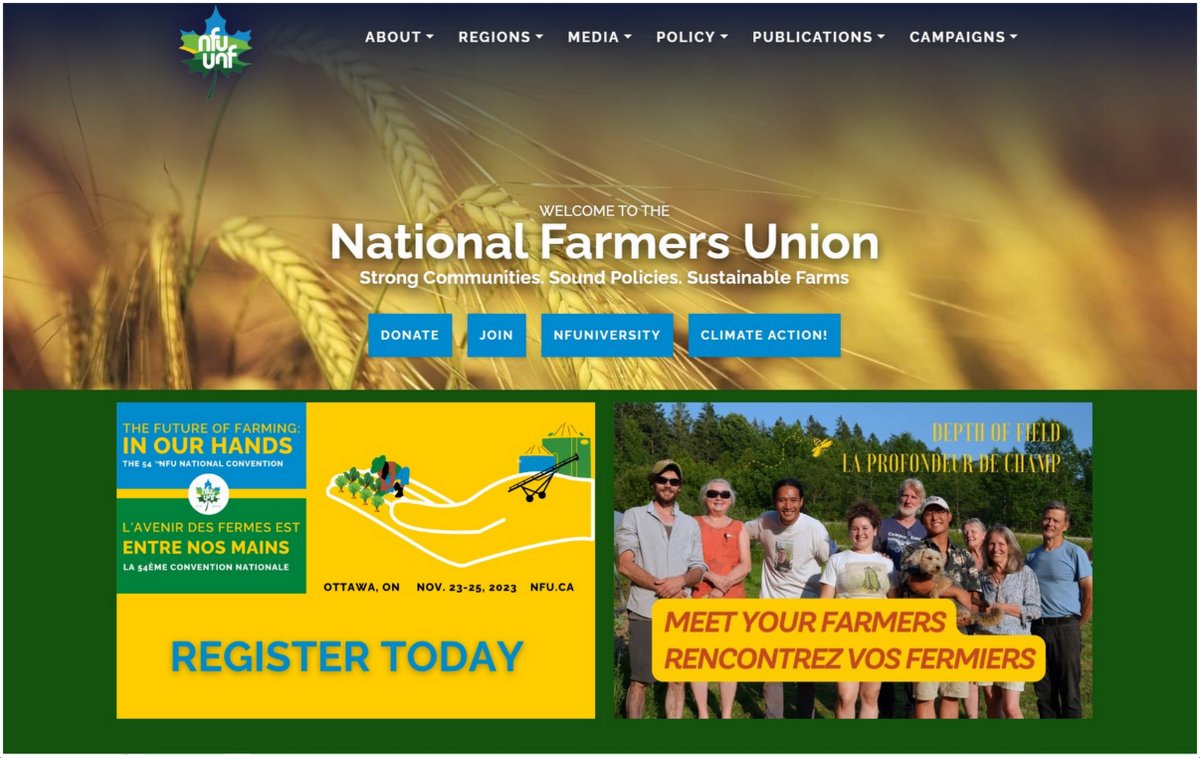 The Farmer & Farm Worker Organizer reports to the Executive Director.
Working Conditions
This is a contract position working 37.5 hours/week from Dec. 18, 2024 through April 5, 2024 and approx. 16 hours/week from April 8 through Dec. 16, 2024 The hourly wage is $24/hour + 5.76% payout for vacation. Training is provided. Work can be done remotely. Some evening work will be required; some weekend work may be required. Some flexibility in work hours is possible as long as the needs of the project are met.
The Ideal Candidate
The NFU is looking for a highly organized, responsible person who can manage a complex set of priorities with accurate results on tight deadlines. This position requires an outgoing person who is keen to create a sense of solidarity and welcome among the membership team and to meet (remotely) farmers of all types across Canada. Direct experience of Canadian farming is a strong asset. The candidate will eager to learn any skills they do not already have. They will have strong written and verbal communication skills. The candidate will manage multiple projects and take ownership for results. They must be committed to the NFU's goals and to grassroots organizing. Fluency in spoken and written French is a strong asset.
Skills
The Farmer & Farm Worker Organizer will have:
Keen interest in community organizing
Proficiency in scheduling, project management and communications
Experience managing small groups of people on a shared task
Knowledge of and interest in agriculture, agricultural policy solutions, the NFU, and movement building through organizing
Communications – Excellent and engaging written and spoken English required; fluency in French is a strong asset
Characteristics Required
Outgoing, collaborative, enjoys connecting and supporting a team
Inherent leadership
Attention to detail, accuracy, conscientiousness
Ability to work collaboratively while taking responsibility for their work
Proactive, positive, industrious, and socially conscientious
Willingness to learn and support others wherever needed
Ability to connect with a wide range of people
Commitment to diversity, inclusivity and respect
Application Process: Applications are to include a resume and cover letter explaining briefly what skills you bring to the job and why it interests you. Applications are welcome until end of day Friday Dec. 1, 2023. Applications are to be sent to hiring@nfu.ca . Please indicate you saw this posting at GoodWork.
We thank everyone for their application, but only those applicants invited for an interview will receive follow-up regarding their application.
The NFU is an equal-opportunity employer. We encourage applicants of diverse race, ethnicity, gender identity, age, religion, ability, sexual orientation, and gender expression.
The NFU will provide support in its recruitment processes to applicants with disabilities, including accommodation that takes into account an applicant's accessibility needs. If you require accommodations during the interview process, please include them with your application.