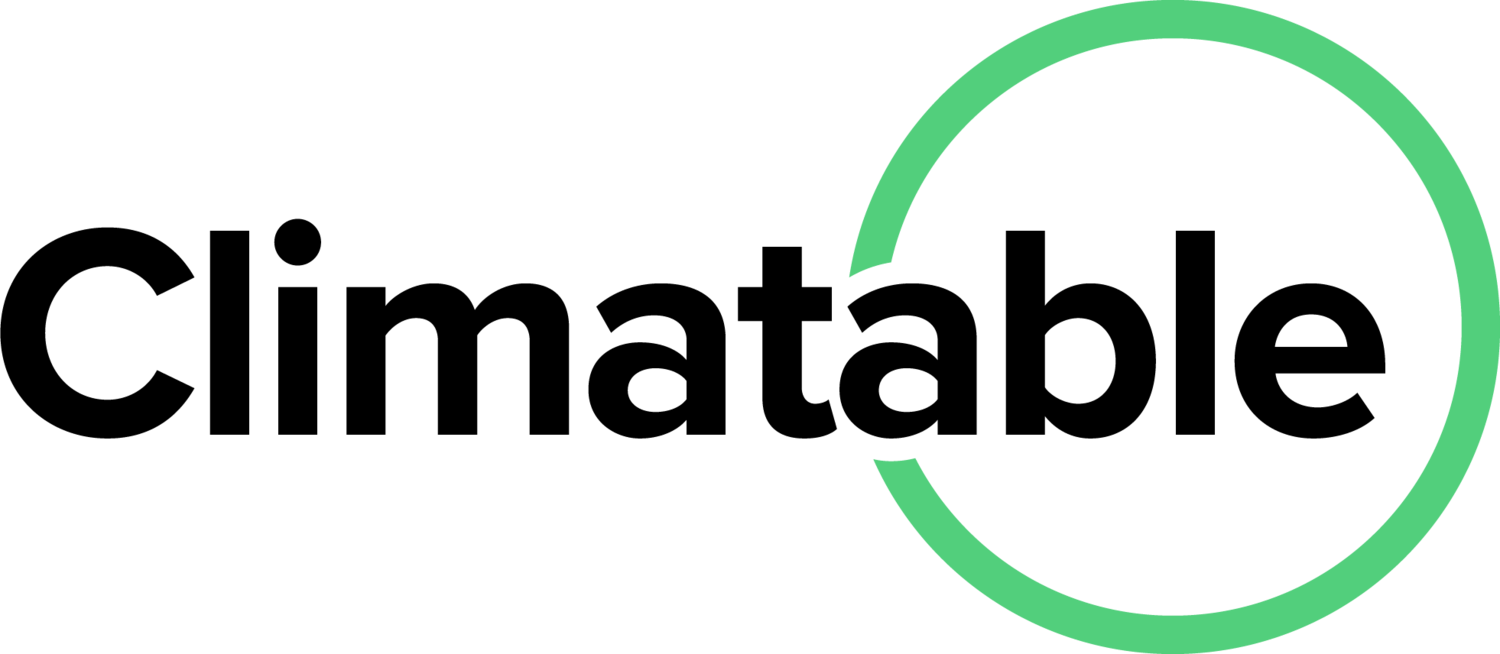 BOARD OPPORTUNITY
English follows
Appel à candidature - Poste au conseil d'administration (Trésorier)
Date limite pour les soumissions: 31 juillet 2019
L'Organisation
Climatable a été créé par un groupe de Montréalais qui considéraient les communautés locales comme essentielles pour atteindre l'objectif "de maintenir l'augmentation de la température mondiale à un niveau bien inférieur à 2 degrés Celsius" de l'Accord de Paris. En tant qu'organisation, nous avons mis l'accent sur la création d'un réseau d'individus et de communautés qui ont le désir de s'attaquer à la crise climatique dans leur vie personnelle et professionnelle, mais qui n'ont pas les ressources pour le faire par eux-mêmes. Nos ateliers, nos événements et nos programmes sont conçus pour aider les citoyens et les collectivités à acquérir des connaissances et à trouver des solutions aux crises climatiques. Depuis 2015, plusieurs centaines de personnes ont directement été impliqués dans nos ateliers et programmes et des milliers d'autres par le biais de nos plateformes en ligne.
La position
Nous sommes à la recherche d'un trésorier d'expérience pour se joindre à notre équipe de membres du conseil d'administration engagés et enthousiastes. En tant que membre du conseil d'administration, vous aurez l'opportunité d'être au cœur d'un organisme sans but lucratif en pleine croissance et à la mission passionnante. De plus, vous jouerez un rôle central dans la prise de décision stratégique, vous vous engagerez avec des partenaires locaux et internationaux, vous rencontrerez des personnes aux vues similaires et vous développerez vos connaissances sur les défis environnementaux urgents.
Profil général
Chaque membre du conseil d'administration doit avoir une connaissance de base concernant l'action climatique et s'y intéresser de près. Les compétences administratives et l'expérience de travail avec des organismes sans but lucratif sont très appréciées, de même que l'expérience dans le développement et la promotion d'initiatives et de projets complexes. Plus précisément, un membre du conseil d'administration s'intéressera à la prise de décisions stratégiques, à l'avancement de la portée de Climatable au Canada et à l'établissement de partenariats stratégiques.
En se basant sur le profil ci-dessus, le candidat idéal aura également les compétences spécifiques suivantes :
Expérience en comptabilité et tenue de comptes

Expérience de travail auprès d'organismes de bienfaisance enregistrés et d'organismes sans but lucratif

Connaissances financières de base, souci du détail et respect des délais dans l'exécution de tâches complexes

Compétence bilingue (anglais et français)
Responsabilités
Ce poste de membre du conseil s'engage à assister aux réunions mensuelles et à contribuer aux activités du conseil sur une base continue (environ 10 heures par mois). Les fonctions du trésorier comprennent :
Dépôt de formulaires légaux, s'il y a lieu (c.-à-d. en réponse à des demandes de vérification)

Encourager la réflexion stratégique du conseil d'administration sur la vitalité financière à court et à long terme de l'organisation

Aider à la préparation du budget annuel et à sa présentation au conseil d'administration aux fins d'examen

S'assurer que les états financiers mensuels ou trimestriels appropriés sont examinés par le conseil

Veiller à ce que le conseil d'administration surveille régulièrement le rendement financier de l'organisation et l'avise de tout écart important entre les chiffres prévus et les chiffres réels

S'assurer que l'organisation tient les livres et registres financiers appropriés et que ceux-ci sont exacts et à jour

S'assurer que les déclarations de revenus du gouvernement sont présentées en temps opportun

Cosignataire de chèques

S'assurer que les fonds excédentaires sont correctement détenus

Vérifier que les dons sont traités de façon appropriée et que les subventions et les contrats de prestation de services sont comptabilisés conformément aux exigences des bailleurs de fonds

Aider à naviguer dans les lois et règlements applicables pour acquérir et conserver le statut d'organisme de bienfaisance auprès de l'ARC
Processus de demande
Si vous êtes intéressé et que vous pensez que vous avez quelque chose à ajouter à notre équipe, veuillez envoyer votre CV et lettre de motivation à : admin@climatable.org - avant le 31 juillet 2019.
La lettre de motivation doit notamment préciser :
Les compétences spécifiques que vous apporterez à l'équipe

Les compétences pertinentes pour un poste de trésorier

Pourquoi vous souhaitez rejoindre l'équipe Climatable
---
BOARD OPPORTUNITY
Call for Board of Directors (Treasurer)
Position: Call for Board of Directors (Treasurer)
Type: board of directors position / unpaid
Organization: Climatable
Location: Montréal, Quebec
Applications close July 31, 2019
The Organization
Climatable was created by a group of Montrealers who saw local communities as essential for meeting the 'well below 2 degrees' Paris Agreement target. As an organization, we have focused on fostering a network of individuals and communities that have the desire to tackle climate crisis in their personal and professional lives but do not have the resources to do so by themselves. Our workshops, events, and programs are ultimately designed to help individuals and communities develop knowledge and solutions surrounding climate crisis. Since 2015, we have engaged hundreds of individuals directly though our workshops and programs and thousands through our online platforms.
The Position
We are looking for an experienced treasurer to join our team of committed and enthusiastic board of directors. As a board member, you will have the exciting opportunity of being at the heart of a quickly growing non-profit organization. Furthermore, you will play a central role in strategic decision-making, engage with local and international partners, connect with like-minded individuals and develop your knowledge of pressing environmental challenges.
General Profile
Every member of the board should have a basic knowledge of, and a strong interest in, climate action. Administrative skills and experience working with non-profits are highly valued, as well as experience in fostering complex collaborations and projects. Specifically, a successful board member will have an interest in strategic decision-making, advancing Climatable's reach in Canada, and building strategic partnerships.
Building on the above profile, the ideal candidate will also have the following specific skills:
Accounting and bookkeeping experience

Experience working with registered charities and non-profit organizations

Financial literacy, attention to detail and timeliness in completing complex tasks

Bilingual proficiency (English and French)
Responsibilities
This board member position has a commitment to attend monthly meetings and contribute to the board's activities on an ongoing basis (approximately 10 hours/month). The duties of the treasurer include:
Filing legal forms when applicable (i.e in response to audit requests)

Encouraging the board's strategic thinking about the short and long term financial vitality of the organization

Assisting in the preparation of the annual budget and its presentation to the board for review

Ensuring that the appropriate monthly or quarterly financial statements are reviewed by the board

Ensuring that the board regularly monitors the organization's financial performance and alerts it to any important discrepancies between planned and actual figures

Ensuring that the organization maintains the appropriate financial books and records and that these are accurate and up-to-date

Ensuring that government tax filings are submitted on a timely basis

Serving as a co-signer of cheques

Ensuring that excess funds are properly held

Verifying that donations are handled appropriately and that grants and service delivery contracts are accounted for in accordance with the requirements of funders.

Help navigate applicable laws and regulations to acquiring and maintaining charity status with CRA.
Application Process
If you are interested and feel that you have something to add to our team, please send your CV and cover letter to:
admin@climatable.org - by July 31, 2019.
The cover letter should address:
The specific skills you will bring to the team

The relevant skills for a treasurer positions

Why you want to join the Climatable team
Please indicate you saw this posting at GoodWork.ca.