DUNCAN & COWICHAN BAY JOBS
Position: Administrative Coordinator
Organization: Cowichan Estuary Nature Centre Society
Location: Cowichan Bay, near Duncan BC
Hours: 25-30 hours / week
The Cowichan Estuary Nature Centre, overlooking the estuary in Cowichan Bay on Vancouver Island, is looking for an Administrative Coordinator with strong communication and administrative skills and a passion for nature education, conservation, restoration, and youth engagement. Twenty-five to 30 hours a week; salary range $25 to $30 per hour ($32,500 - 46,800 annually), based on experience. This could be a full-time position for a candidate who also has experience as a nature educator in developing and leading nature-based education programming for children and youth. Hands-on activities in the estuary's intertidal zone, eelgrass restoration, and riparian restoration in the watersheds that flow into the estuary are special focuses for us, in addition to offfering school programs, summer science and nature camps, and being open to the public as a nature interterpretive centre on weekends and holidays.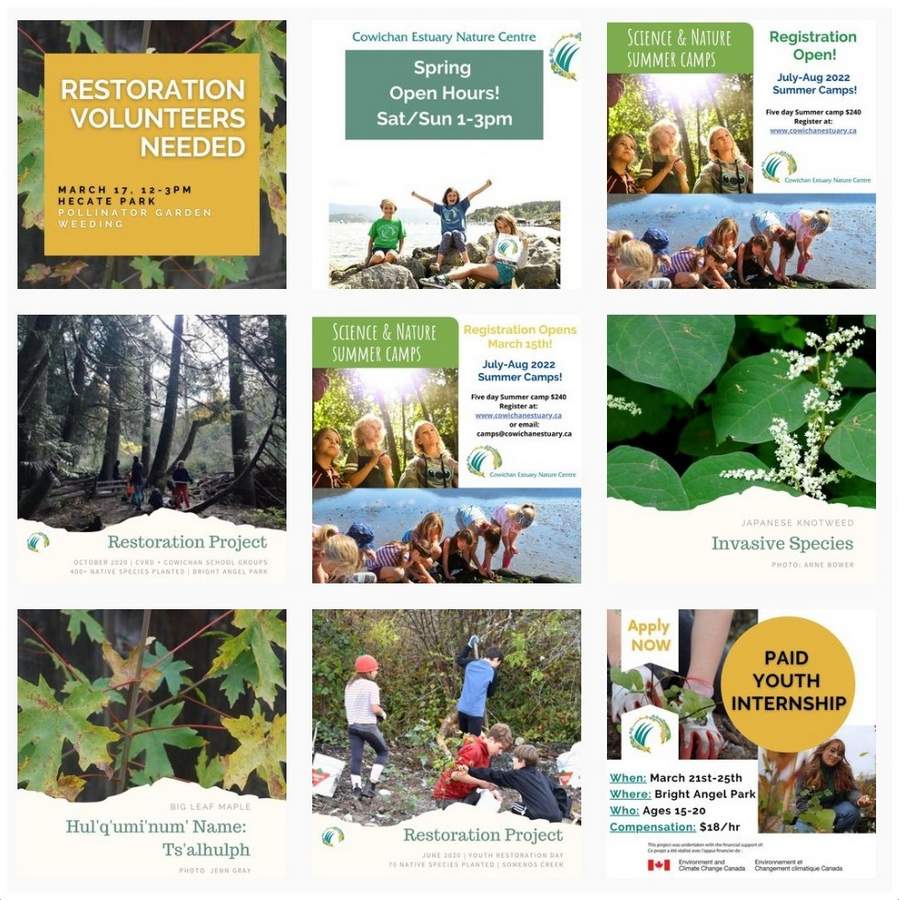 The Cowichan Estuary Nature Centre is a volunteer-led charitable non-profit. Our purposes are to advance education by providing programs and classes to children, youth, and the public on the Cowichan estuary, its marine and bird life, its natural and cultural history, the Cowichan and Koksilah watersheds, and other natural ecosystems, and to protect, restore and enhance the quality of the natural environment in the Cowichan estuary and its adjacent watersheds.
Located on the traditional and unceded territory of the Quw'utsun' People, the Nature Centre engages people of all ages in hands-on learning and watershed restoration opportunities in the Cowichan estuary, and the Cowichan and Koksilah watersheds, creating opportunities for children and adults alike to fall in love with this special ecosystem and feel interconnected with the natural world. We believe these experiences motivate people to share their love and knowledge of nature, and act to care for and protect natural ecosystems here and throughout the Cowichan Valley. Find the full position description on our website here.
Please submit applications with CV and references by August 14th at midnight to admin@cowichanestuary.ca .
Please indicate you saw this posting at GoodWork.
Anticipated start date between August 29 and Sept 6, 2022. (An earlier start is also possible.)