WORK OPPORTUNITIES
Position: Housekeeping/Dog Handler
Company: Arctic Chalet Resort
Location: Inuvik, Northwest Territories
Type: Position with salary
Start: June 1, 2024

Property Description
The Arctic Chalet is a beautifully landscaped eco-friendly, non-smoking tourist establishment located near Inuvik in the Canadian Arctic, Northwest Territories. We provide beautiful cabin accommodations to our clients as well as rental cars and other services.
Job Description - Work for Pay

We are now looking to hire someone for next summer and possibly longer. This position mostly involves housekeeping along with other duties such as cleaning rental cars, doing some yard work and, at times, some light office work. We follow a six-day work week, Sunday through Friday with Saturdays off, except for a brief visit to the kennels to feed the dogs at about noon. Work schedule is about 5 hours a day.
Volunteer Work with Huskies
Our White Huskies are a unique, white, blue-eyed Arctic breed (Siberian/Malamute, mostly Siberian). They are beautiful, intelligent and strong with wonderful dispositions. There are 24 adults currently living in our kennel and we are raising 5 pups as well. These dogs are very well socialized and interact beautifully with people. This is an opportunity where you can learn all about husky sled dogs and includes knowledge on dog care, management and training. Kennel work is about 2 hours per day in exchange for housing and utilities and a unique experience working with sled dogs. The salary does not cover this time.
Our dogs live in a kennel complex with nicely organized pens that makes kennel work very efficient. Staff share the responsibility of taking care of our huskies and also a few doggy day care and boarding dogs from the community. Daily kennel duties include feeding, watering, cleaning pens. In addition to kennel work we enjoy running the dogs for exercise and training. In summer we run the dogs using 4-wheeler ATVs until the lakes freeze over. Once the ice is safe we switch to using snowmobiles until there is enough snow to set smooth trails. At that time we can use sleds for the rest of the winter. Our staff learn how to use all of this equipment and have fun doing it.
Requirements
A love for animals, especially dogs
Friendly personality and good communication skills for dealing with the public.
Valid Canadian work permit (We do not do sponsorships)
---
Staff Accommodations
Our staff live on the property in staff rooms or cabins that are fully furnished although basic. All rooms and cabins have an oil heater and electricity. A Bath House with showers and flush toilets and sinks is available closeby for staff use. Also a laundry facility is available at no extra charge. Staff cook their own food in a shared kitchen.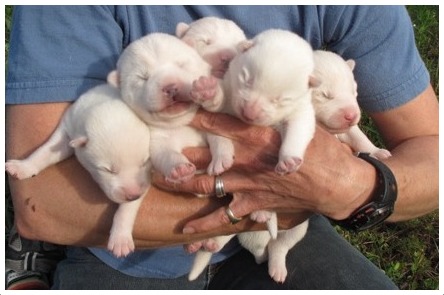 Other Requirements
Because we live in a natural environment close to nature, we would like to find staff who love the out-of-doors and who would enjoy spending their free time on the property. Our staff must have a healthy natural-looking physical appearance. To meet our conservative standards, employees should practice good hygiene and be clean, neat and tidy, non-smoking, non-drinking and drug-free (includes the use of Cannabis). A detailed staff contract must be agreed to and signed prior to arrival.
Application Process

Please read our WORK page on the web site and then email us and include several recent photos or yourself, a resume and a letter of introduction telling about yourself and why you would like to work up here with us in the Arctic. Check out the flyairnorth website for flight options, flyairnorth.com . Ask us about our travel bennefits if you are seriously interested in working with us.
Judi's email: judi@arcticchalet.com
Web site: https://arcticchalet.com/
Please indicate you saw this posting at GoodWork.