Spiritual Retreat Volunteering
Meditation, live in the Woods in a spiritual community
Roles: Cabin maintenance, driving firewood and water supplies to guests, making firewood, cooking.. 
Type: volunteer / with private room and vegetarian meals
Organization: Siva Ashram / Hébergement les Pieds sur Terre
Location: St-Calixte, 60km north of Montreal, Quebec
Dates: We presently have room for volunteers to join us for July and for the months ahead.
We are a a small spiritual community rooted in yogic philosophy and inter-spiritual exploration. We share a lifestyle of group practices, meditation, yoga, karma yoga (work), prayer, study and personnal development workshops. We function as a big family in which everyone is different and unique and create an atmosphere where everyone feels at home. This makes our group energy very cohesive and dynamic, loving and high spirited.
We  are looking for people who are both interested in spiritual growth through daily meditation and group activities as well as people who are interested in helping us honnor the business relationship with the accomodationg business established on the same property which allows us to finance our lifestyle and activities.
As an interspiritual community, we enjoy explore the teachings and practices from the world's major religions traditions (hindu, christian, buddhist, native american, Islamic and jewish), without getting caught into any dogma as we also relate to the Divine as One, with many faces and names. We love to celebrate life, and rarely miss an opportunity to make a special dinner for Shabbath, have a special bone fire for the moon, celebrate one's birthday. We love to engage playfully with seemingly contradicting teachings to develop our own understanding and philosophical flexibility. 
We sustain ourselves through a work exchange agreement with an accomodation business which was established on the same property a few years ago. This business currently has 6 cabins: a tipi, a tree house, hobbit house and 3 bubbles. 
Volunteering will take place with cabin maintenance (cleaner), water and firewood provisioning (driver), cooking for our group, maintenance of ashram installations, forest trail maintenance and potentially some gardening and side projects based on your skills and interest.
Volunteers stay in private rooms and we offer 3 vegetarian meals per day.
You will live with a group of about 6-8 people living in a spiritual community setting with shared values and daily practices.
We are established on a 34 acres plot of woodland, one hour north of Montreal, in a beautiful, densely forested area.
We also have some pets: donkey, pony, mule, pigs, cats.. which we also need help with.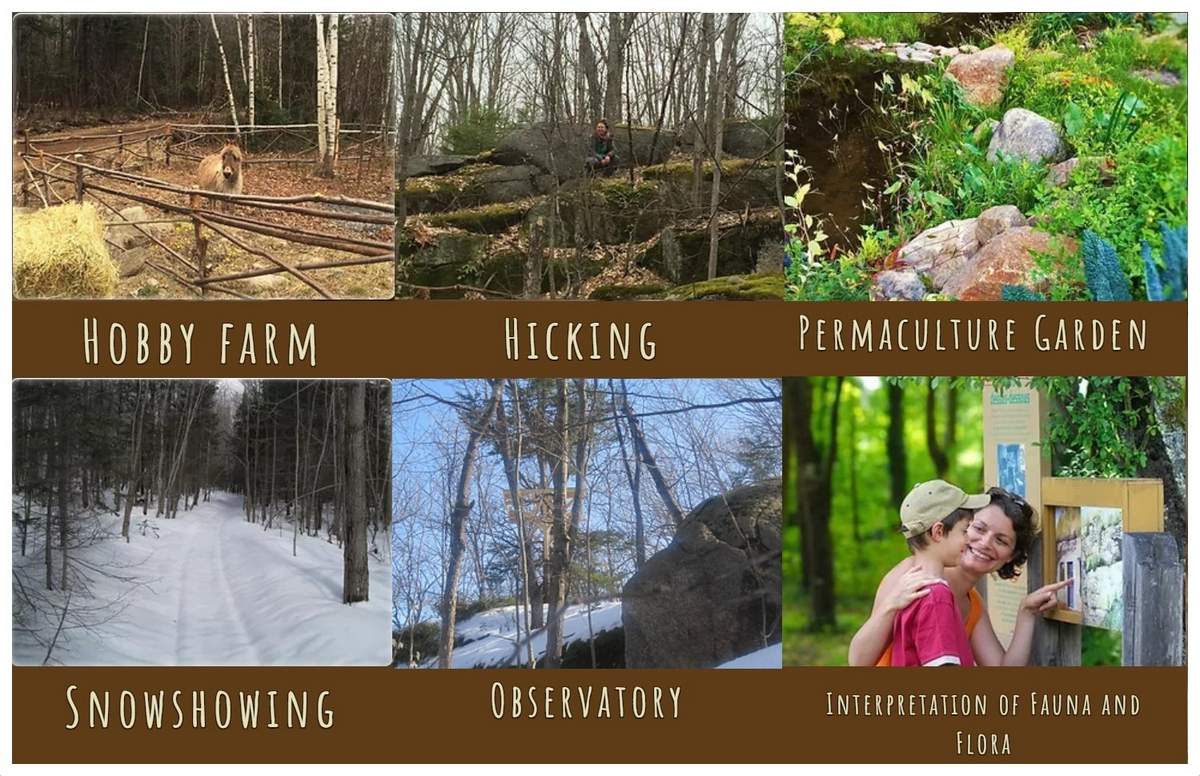 Our site is drug, cigarette and alcohol free, with very little exceptions (Such as a glass of wine for special celebration and we recently introduced a beer for nationnal holiday bone fire). 
*We presently have room for volunteers to join us for for July and for the months ahead.*
Group's values and attitudinal guidelines:
Peacefulness: quiet, avoid rushing, running or over exertion, practice being effective in your tasks without stressing yourself out.
Addiction free: Not rely on drug, alcohol, cigarettes on a daily basis while on site.
Loving and supportive environment: Caring, avoid complaining and fault finding in others, resolve tension and conflicts as they arise.
Connexion: finding strenght in community life and group activities
Selflessness: working not for our own sake alone but for the sake of the group and for spiritual growth.
Gratefulness and optimism: cultivate a thankful attitude choosing to see the glass as half full.
Authenticity: introspective, non-superficial, true
Open minded : love and common sense oriented, support for celibate singles alongside commited relationships, LGBT friendly.
Spiritual transformation : commited to daily spiritual practice and healthy self-discipline
Divinity : understanding that purpose of human life is a mix between seeking God as a friend and realizing our own Divinity.
Flexibility : making room for everyone's differences and "weirdness" to express themselves while flowing in harmony with the group
Integration : commiting to transforming and integrating our own shadow and life experiences to grow up and gain clarity of mind 
In you are interested, contact : 
kedarnathansubramanian@gmail.com
+1 438-509-1984
Please indicate you saw this posting at GoodWork.