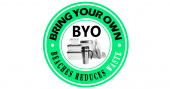 VOLUNTEER POSITION
The Beaches Reduces BYO ("bring your own") campaign is seeking new leadership.
Position: Beaches Reduces Director
Organization: Beaches Reduces
Location: The Beaches, Toronto, Ontario
An exciting opportunity to take over an existing project that's ready to go. This pandemic has only placed a temporary hold on reusable programs; they will be back!
Campaign's background: Early in 2019, Roncy Reduces was the first to start a BYO campaign in Toronto, and soon thereafter other neighbourhoods joined in. All of these new locations are independently run by volunteer members of their respective communities such as Danforth Reduces, Kingston Road Reduces, and St. Clair Reduces. During the summer of 2019 Beaches Reduces launched and has since signed up 25 businesses. Each business places a BYO sticker in their window indicating that reusable containers are accepted, or they support other waste reduction activities (i.e sell secondhand clothing, repair electronics).
The lead should be a self-starter because the growth of the program is self directed; interested in building and maintaining good relationships with new and existing small business owners; and possess a passion for and knowledge of waste reduction strategies.
Beaches Reduces is a member of the Green Neighbour's Network (GNN) and Future Grounds (David Suzuki's Blue Dot initiative); has previously collaborated with other east end Reduces' groups; and is a member of the Toronto Reduces Network, which frequently strategizes with Toronto Environmental Alliance (TEA)'s waste campaign director.
Work involved:
Reaching out to businesses in the Beaches to grow the BYO program
Managing social media accounts
Volunteer recruitment and management
Answering inquiries
Designing and writing original content
Areas of strength:
Organization
Communication
Collaboration
A personal practice of reusing and reducing
Beaches Reduces' coverage area is from Coxwell to Victoria Park, Gerrard to the Lake (not including Kingston Rd.) including 1 Business Improvement Areas (BIA). Ideally, this role is filled by someone who lives nearby or regularly visits The Beaches. The position will remain vacant until filled.
Contact: Adrianna, Founder of Beaches Reduces: adrianna@inwit.ca