VOLUNTEER OUTDOORS
Needed: Nurdle Hunt Volunteers
Organization: A Greener Future
Locations: Toronto, Etobicoke, Port Hope, Belleville, Hamilton, Burlington & Oakville, Ontario
Come join us for a Nurdle Hunt, a fun-filled event for all ages! Throughout October, we'll be hosting Nurdle Hunt events at various locations along the shores of Lake Ontario!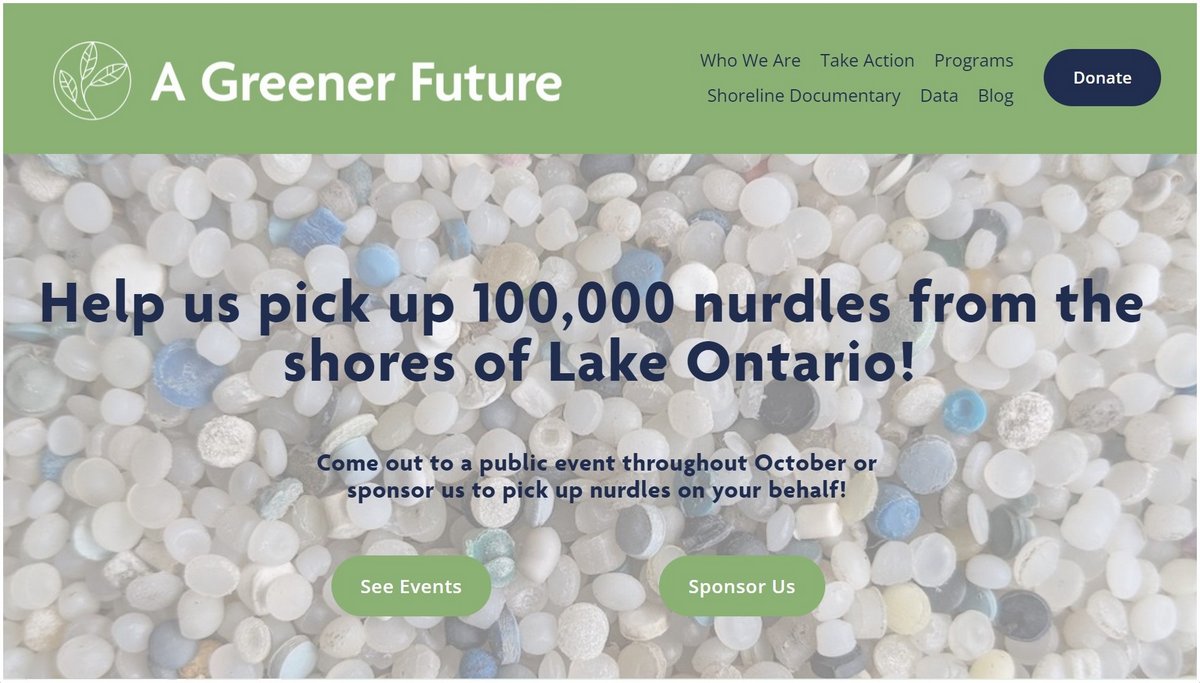 What are nurdles, you ask? Nurdles are small plastic pellets (about the size of a lentil) used by the manufacturing industry to make new plastic products, everything from phone cases to plastic bags are made of nurdles. Small and lightweight, these pellets can easily spill throughout the plastic supply chain and be lost in the environment. Nurdles can cause harm to aquatic life when they are mistaken for food and also contaminate our drinking water with microplastic pieces. They are difficult to clean up from the environment, which is why we need your help!
Together, we'll clean up the beach and search for these pesky nurdles. It's a great opportunity to make a positive impact on our environment while enjoying beautiful Lake Ontario.
Bring your friends and family, and let's make a difference! Don't forget to wear comfortable clothes and shoes, and bring your enthusiasm. We'll provide all the necessary equipment for the hunt. This event is a fantastic chance to connect with like-minded individuals and contribute to the preservation of our precious coastal ecosystem.
Join us at the beach and be part of the solution!
Events:
Sunday, October 1st 10:00 AM - 11:30 AM: Sunnyside Beach Toronto
Saturday, October 7th 10:00 AM - 11:30 AM: Hamilton Beach, Hamilton
Saturday, October 7th 2:00 PM - 3:30 PM: Bronte Beach, Oakville
Saturday, October 7th 2:00 PM - 3:30 PM: Burlington Beach, Burlington - With Burlington Green
Saturday, October 14th 10:00 AM - 11:30 AM: West Beach, Bowmanville
Sunday, October 15th 10:00 AM - 11:30 AM: Bluffers Beach, Scarborough
Sunday, October 15th 1:00 PM - 2:30 PM: Woodbine Beach, Toronto - With Bagida-waad Alliance
Saturday, October 21st 10:00 AM - 11:30 AM: Sunnyside Beach, Toronto
Sunday, October 22nd 10:00 AM - 11:30 AM: Marie Curtis Park, Etobicoke
Sunday, October 22nd 1:00 PM - 2:30 PM: Colonel Sam Smith Park, Etobicoke
Saturday, October 28th 10:00 AM - 11:30 AM: Riverside Park, Belleville
Saturday, October 28th 2:00 PM - 3:30 PM: East Beach, Port Hope
High school community service hours may be earned through this opportunity.
Note: Nurdle hunting requires kneeling and bending to scoop and sift through the sand at ground level.
Any questions about this event can be directed to nicole@agreenerfuture.ca

Apply: https://www.eventbrite.com/cc/nurdle-hunts-2023-2542339
Please indicate you saw this posting at GoodWork.ca.