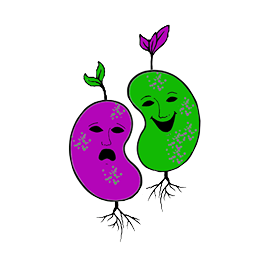 FARM STAY / FARM TEAM
Positions: Farm & Homestead Collaborators
Farm: 2 Beans or not 2 Beans Farm
Location: Gaspereau, near Wolfville, Nova Scotia
Housing: accommodation and meals included (see below)
Type: farm stay / volunteer
Greetings Prospective Farm Stay Guests!
2 Beans or not 2 Beans Farm is an up and coming small-scale, mixed-vegetable and fruit Farm and Arts homestead in Gaspereau, Nova Scotia, Canada.

We a currently seeking collaborators for our 2023 Spring, Summer and Fall growing season! 

Thanks for All the Wonderful Guests and Good Workers who helped out last year! It was a tremendous feat of production and to you we are forever grateful and will cherish the memories for many years to come!

*We would prefer a 2 week minimum stay with a long term stay potential.
We can accomodate part-time work-trade situations for local helpers living off site. 
My name is Erich Burton, I have recently (as of 2019) moved back to Gaspereau, Nova Scotia to be closer to my family, long time friends, and to start 2 Beans or not 2 Beans Farm, www.2beansfarm.org.
Wolfville, Gaspereau and Grand Pre are beautifully located in the stunning lands and waters of the unceeded Mi'k Mak'i First Nation territory.
Mixed hardwood and conifer forests, roll along hills into farmland and dykelands constructed by the Acadian peoples, merging with the shores of the Bay of Fundy, which claim the highest tides on the planet.

There are numerous freshwater rivers, lakes and seaside swimming spots for those hot summer days or those wintery cold water submersions !

Farms, Orchards and Vineyards appear to make up most of the properties throughout the countryside landscape here in the beautiful Annapolis Valley.

The Property:
3 acres total, ~2 acres of gently rolling pasture and ~1 acre of house site with mature white oak, red maple, ash, and adolescent chestnut, black walnut, an established raspberry patch, a couple apples trees as well as other species and varieties of native and introduced plants that the previous owners tended during their time.

The House:
A 60 year old bungalow, 2 bedrooms, foyer/living room, kitchen, bathroom, with an earthen floor basement which is used for wood cutting both for building, and for fire wood storage and prep as well as Food Storage with a Walk-in Cooler.
2022 was our second full growing season with a garden plan that filled over 60 raised beds of at least 80ft. long with over 100 different varieties of plants including Greenhouse Tomatoes, Cucumbers, Peppers, Melons, Squash, Greens, Root Crops, Flowers, over 1000 Strawberry plants, Rasperries and more !
2023 — We plan on growing a similar Market Garden Crop Plan with a few more new grow beds for the beginnings of a new Mixed Permaculture Orchard, 500 more strawberries plus a couple new irrigation ponds ! 

We invite motivated, open, enthusiastic, dilligent and playful individuals who have a passion for nature and community to learn and work together with us to bring to fruition our 2023 Garden Plan!

2 Beans or not 2 Beans Farm offers a space for people who seek to thrive in an experiential learning environment with organic farming, permaculture principles and creative performing arts.

We are a mix of farmers, musicians, fibre artists, and nature lovers who are in an ongrowing process of setting up a self-sustaining cooperative enterprise where we can pursue our passions of abundant organic farming, permaculture and the arts, while offering space for guests to meet their needs, and realize their own dreams and potential during their stay.

We offer 2 large, delicious and healthy vegetarian meals a day with guest room in-house accomodation in exchange for 25 hours a week of work hours around the farm.

There is also a camping option or one can park a camper vehilce here on site if desired.

Tasks vary depending on the season. A general break-down of seasonal tasks looks like:

Winter: Interior House Resotaration, Microgreen Production, Wood Chores, Chicken Care, Canning and Pickling, Arts, Crafts, Music making, Permaculutre Design Planning, Drawing, Planning for the Market Garden.

Spring: Indoor/Outdoor seeding, propagation, bed prep, planting of vegetables, berry crops and trees, early harvests and markets, chicken care, greenhouse tending.

Summer: Harvests, Wash/pack of produce, Markets, seeding and planting for Fall harvests, Hosting potlucks and potential workshops and specialized celebratory events, and chicken care !

Fall: Harvests, Markets, planting garlic, putting the garden to bed/prepparing for winter, greenhluse tending, wood chores, chicken care.

Tasks will include:
Seeding and watering transplant trays, microgreens
Prepping, amending, and maintaining garden beds with silage tarps and handtools and a push tractor.
Setting up and watering with drip and sprinkler irrigation
Caring for laying hens, egg collection, coop maintanence and compost creation
Direct seeding and Transplanting of crops
Watering, Harvesting, Washing and Packing of produce
Market Days are in Kentville (Wednesday), Halifax (Monday and Saturday), and sometimes Windsor (Thursday).
Planting food frorest plants, Fruit Trees, perennial shrubs, nitrogen fixing trees, hardwood trees, grapes, blueberries, strawberries and more !
Coming up with newer creative ways to find more markets for our produce and to increase efficiency and production capacity within our small-scale operation.
For more info and photos of the 2 Beans or not 2 Beans Farm Project visit: 2beansfarm.org | more photos (Workaway) | Facebook
To apply:
If you are interested in collaborating with 2 Beans or not 2 Beans Farm Homested please write us at: 2beansfarm@mail.com or phone: 1 (902) 990 0098 with any and all questions you may have about visiting or living on the Farm!
Please indicate you saw this posting at GoodWork.ca.