VOLUNTEER POSITIONS / POSTES DE BENEVOLES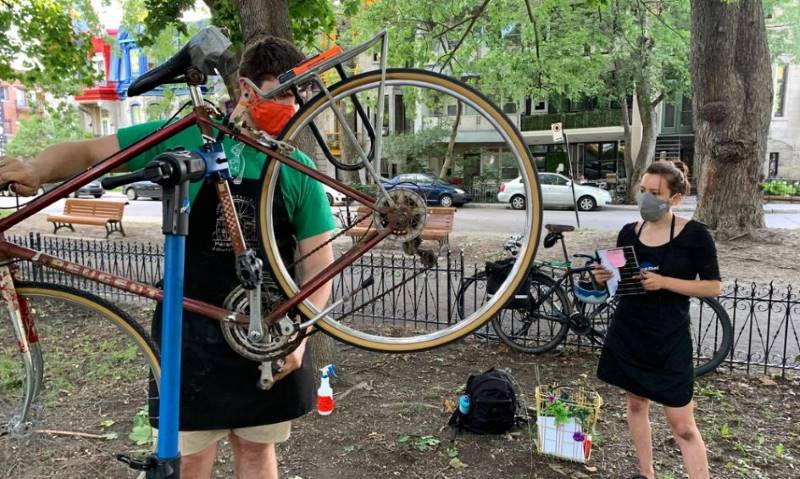 Wanted: Team members
Organization: Santrovélo
Location: Montréal, Quebec
Do you like bikes? Do you want to help make a positive impact in your community? Are you looking for some new experience to add to your resume or build leadership skills? 
About Santrovélo
Santrovélo is a volunteer-run bicycle collective and workshop, supported by Santropol Roulant. Since its beginnings, Santrovelo has helped teach people about bicycle repairs by offering tools and bike repair knowledge in a friendly and accessible space. The workshop is located within Santropol Roulant (in the Plateau Montréal); however, since the beginning of the pandemic, we have moved our services outdoors to ensure safety for everyone. Santrovelo is dedicated to empowering people to fix their own bikes, while at the same time, fostering a sense of community and belonging in our workspace. In order to do so, we ask our members to take on leadership roles within the collective to help ensure continued operation and shape our future.
Coordination Volunteers
While we regularly recruit volunteer bicycle mechanics and aspiring mechanics, we are always searching for dedicated folks to join our coordination committee. The Coordo team manages the bike shop's administration, strategic planning, day-to-day operations, and we are looking for YOUR help!
If you want to support cycling in Montreal, empower people to learn new skills and repair their bikes, all while gaining leadership experience - then we are looking for you! We don't ask for any prior experience, just a willingness to learn and help grow Santrovelo.
We are looking to fill these positions on our coordination team:
Social Media & Marketing
Partnerships & External Communications
Community engagement & Special Events
Education & Workshops
Finance & Budgeting
Women Trans* Femme series & Equity Diversity Inclusion
Volunteer Coordinator
Shop Coordinator
If you're even just a little curious, we encourage you to reach out so we can meet you :)
Email us at santrovelo@santropolroulant.org for information about applying.
Please indicate you saw this posting at GoodWork.ca.