CORONAVIRUS / COVID-19 RESOURCES 
Worried about coronavirus? All our lives are being disrupted. But at the same time, this is a time to strengthen our communities, resilience, self-care...  
(Note: This page is not medical advice. Links are provided for your interest, we do not approve or endorse them. For up-to-date info, please see the government, public health or health provider.)
Official info: Canada | BC | Alberta | Saskatchewan | Manitoba | Ontario | Quebec | New Brunswick | PEI | Nova Scotia | Newfoundland & Labrador | Yukon | Northwest Territories | Nunavut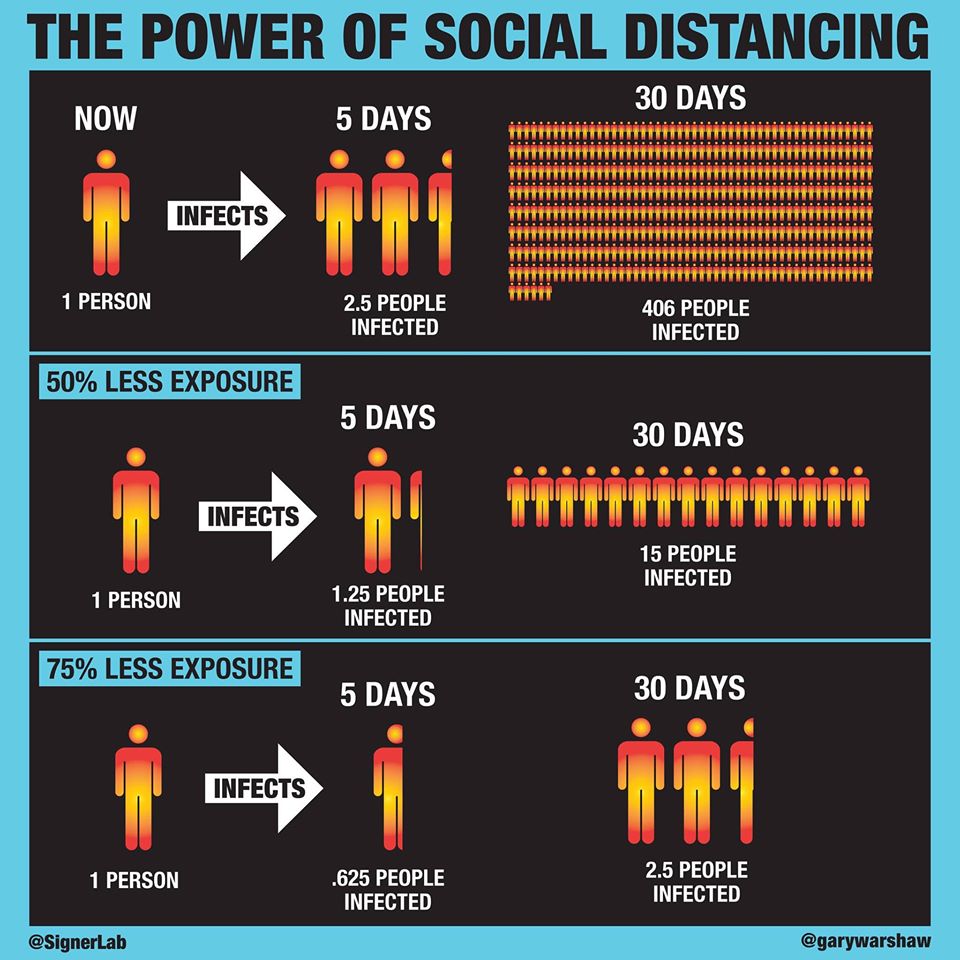 (1) Prevention
Stay home, save lives

:

How Canada could avoid the worst of COVID-19 — "This is Canada's one brief chance to change the course of this epidemic. ... If you wait until things are bad, you've waited too long." — full story (2) Video (CBC) // How cancelled events and self-quarantines save lives, in one chart — full story (Vox.com)
The do's and don'ts of social distancing — full story (The Atlantic) | Canada | More
How to prepare for the COVID-19 pandemic "Get ready / Limit the spread of germs / Follow health travel advice and advisories / Take care of yourself" — full story (Ottawa Public Health)
Coronavirus prevention and risks — full story (Government of Canada)
Soap wins out over hand sanitizer (and is also cheaper and better for the environment) — full story (Vox.com) More | More | Non-toxic disinfecting | Stop the spread of germs
Boost your immune system — "Lower your stress / Improve your sleep habits / Check your vitamin D level / Avoid excessive alcohol / Eat a balanced diet / Exercise / Skip unproven supplements" — full story (NY Times)
What about face masks, disposable gloves, vitamins, toilet paper? — full story (CBC.ca/news)
---
(2) Symptoms & treatment
Do I have Covid-19, the flu or a cold? — full story (CBC.ca/news)
Symptoms, diagnosis, treatment — full story (Government of Canada)
What to do if you think you have Covid-19: a guide to each province and territory — full story (CBC.ca)
---
(3) Stress & anxiety
---
(4) Community, compassion, positivity
Yes Magazine — We'll be including all the beautiful ways communities are stepping up their compassion and people power in this challenging time, online at yesmagazine.org . A few of the stories on deck:

What kinds of social safety nets are helping communities prepare—and protect—themselves
How "Nordic economics" offers us a model for handling uncertainty
Books that help us find courage in times of anxiety
How neighbors in Appalachia are building community by facing coronavirus together 
---
(5) Environment & Sustainability
---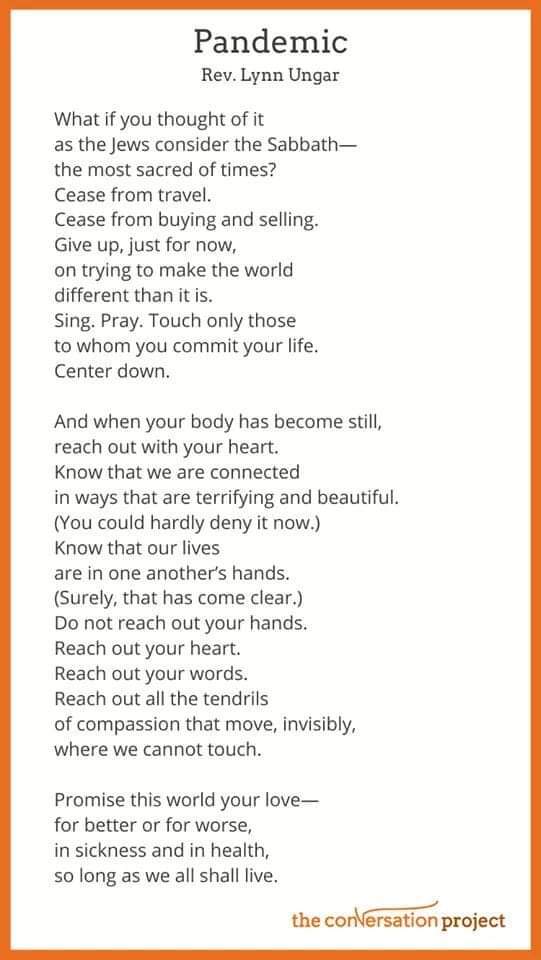 (6) More...
---
Stay home: "All Canadians, as much as possible, should stay home. By staying home, you can not only protect your health and that of those around you, but ensure that our health care professionals and our health care systems can focus on those who need their help. This is an adjustment for all of us. We know that staying home is an important step to protect the community and each other. We all have to do it." — Justin Trudeau (Full speech)
---
Social distancing — why is it important?
---
"It can be said that there are four basic and primary things that the mass of people in a society wish for: to live in a safe environment, to be able to work and provide for themselves, to have access to good public health and to have sound educational opportunities for their children." — Nelson Mandela
Public health: About | Public Health Agency of Canada | Canadian Public Health Association | Public Health Organizations