BOARD POSITIONS
Needed: Board Members
Type: nonprofit board of directors / unpaid
Organization: Elevation Outdoors
Location: Okanagan Valley / Okanagan Country / British Columbia
About Elevation
Elevation's mission is to enhance the lives of underprivileged youth via participation in specially designed outdoor sports programs; and to help youth develop lasting passion for these sports while drawing parallels to life through the experience and learning life skills along the way. Elevation facilitates programs through the spring, summer and winter months. elevationoutdoors.ca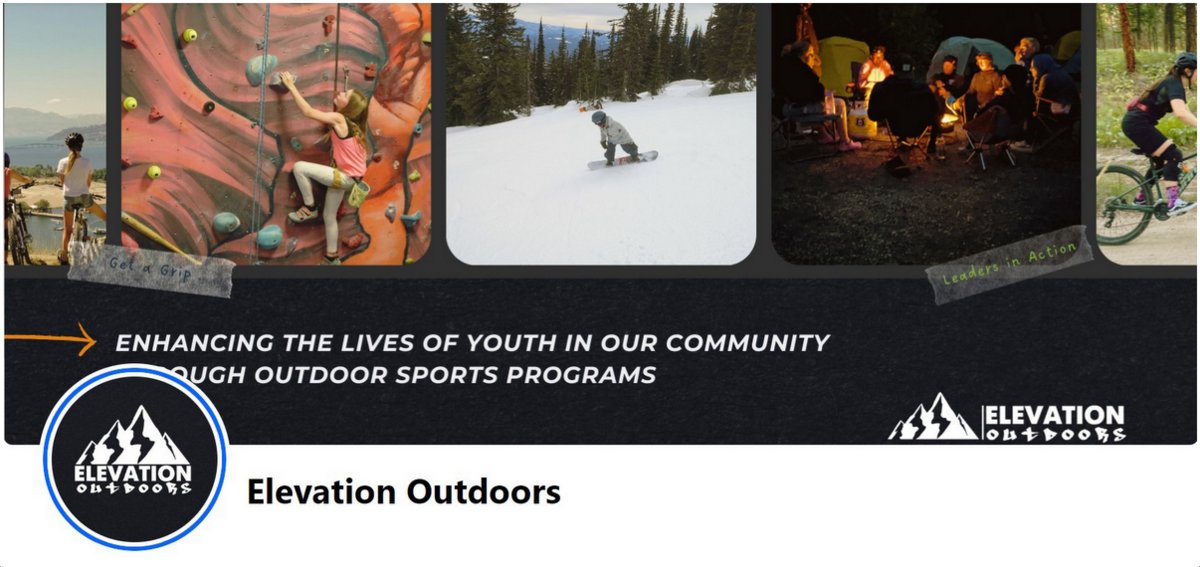 Board Members
Elevation Outdoors is seeking passionate, skilled individuals to join our Board of Directors. In an effort to represent the communities we serve, we encourage applications from candidates of all ages and abilities, all gender identities and sexual orientations, those who identify as Indigenous, black people of colour, as well as people with experience in poverty or mental health.
Summary
Board member(s) to support the work of Elevation Outdoors and provide mission-based leadership and strategic governance. Board members provide strategic, financial and operational guidance and oversight to the organization as well as participate in various Board Committees (e.g. Human Resources, Fundraising, etc.)
Purpose
To act as a voting member of the Elevation Outdoors Board of Directors with full authority and responsibility to develop policies for the operation of the organization; to monitor the organization's financial health, programs, and overall performance; and to provide the Executive Director with the resources to meet the needs of those persons the organization serves.
Responsibilities of the Board of Directors
Establish policy
Hire and evaluate the Executive DIrector
Monitor finances
Create and update a long-range strategic plan for the organization
Select and support the organizations's board officers
Adapt key operating policies: approve contracts as appropriate
Responsibilities of Individual Board Members
Attend board meetings regularly (meetings are typically bi-monthly and one hour)
Become knowledgeable about the organization
Come to meetings well prepared and well informed about issues on the agenda
Contribute to meetings by expressing your point of view and encouraging others to do the same
Make constructive suggestions and help the board make decisions that benefit those persons the organization serves
Share news, articles and other information relevant to the organization's mission with the board
Maintain confidentiality of board discussions
Represent the organization to individuals, the public, and other organizations in a positive and professional manner
Serve as a champion of the organization by identifying and helping to cultivate opportunities, relationships and individuals which/whom may help the organization grow
Support the organization by assisting with developing resources and policies
Assist in Identifying and recruiting prospective board members and supporting the board's growth, succession planning, and sustainability
Support the organization through attendance at special events and activities
Serve on at least one board committee
Qualifications
This is an extraordinary opportunity for an individual who is passionate about youth, outdoors, and mental health and the vision of Elevation Outdoors. Selected Board Members will ideally have:
Experience in one of more of the following: non-profit, youth work, mental health, education, fundraising or marketing.
A natural affinity and passion for affecting real change in community and education wellbeing and culture
Demonstrated leadership roles
Understanding of Board Governance Practices
Work experience with school boards or other educational settings (asset)
Fundraising and grant writing (asset)
Time Commitment
Board meetings are typically bi-monthly, and one hour in length at lunch hour, frequency and length of meetings may vary. In addition to board meetings, members agree to read background materials; assist with developing resources, policies and relationships; and support any projects that the board may be working on. We acknowledge that all board members have various personal and professional commitments and that their availability may increase or decrease at certain times of the year.
Rationale
Board members set organizational policies and goals and delegate authority to the Executive Director to implement them in the day-to-day management of the organization. Individual members of the board, however, have no authority to act independently of the full board. When they do, it can seriously damage the organization's ability to carry out its mission, board team spirit, and the organization's image in the community. Board members who abuse their position this way may be disciplined or censured.
Board members are also trustees of the organization who approve an annual budget that ensures it can meet its financial needs. In addition, board members monitor the overall financial health of the organization by reviewing the annual report of the accountant recommended by the Treasurer and approved by the board. The Executive Director retains responsibility for the day-to-day operational expenditures.
Board members should attend all meetings and actively participate in them. Board members have the responsibility to know and fulfill their role, and to act in the best interest of Elevation Outdoors.
If you are interested in learning more about this role please contact our Board Chair, Tori Hanson, at Tori@elevationoutdoors.ca . If you know someone who might be interested please share this with them and in your networks as we look at adding some more great minds to our Board of Directors.
Any interested parties need to express their interest by Dec 1, 2023 for consideration.
Please indicate you saw this posting at GoodWork.ca.