STAND UP FOR CLIMATE
GLOBAL CLIMATE STRIKE
Friday September 15, 2023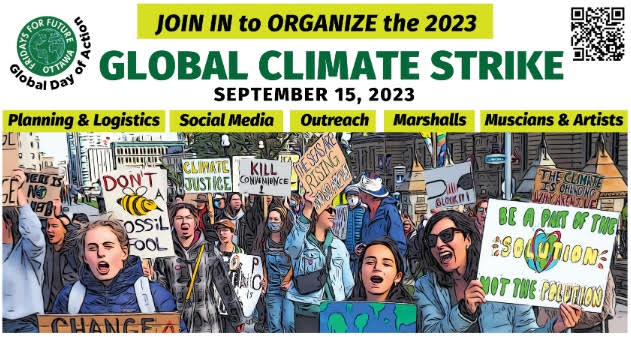 Start planning now.
Canada: fridaysforfuture.ca
Global: fridaysforfuture.org
Wiki | Instagram | Google
On September 15th, we will strike for climate reparations and justice!
Join us for the Global Climate Strike as we demand policymakers and world leaders to prioritize #PeopleNotProfit! We demand that our Governments listen to MAPA voices and immediately work to provide Loss & Damage Finance to the communities most affected by the climate crisis.
(Type: event, participation, rally, protest, democracy. Not a job.)
Wikipedia | Instagram | Twitter | Google | DuckDuckGo
---
Jobs — work for climate action:
Work for environment, sustainability, climate action:
GoodWork.ca/Climate
---
Climate Strikes & Fridays For Future:
#climatechange #climatecrisis #climateaction #climateadaptation #climatemitigation #climatesolutions